Family Forestry at Cross Road
Nov 30th, 2018
A+
A-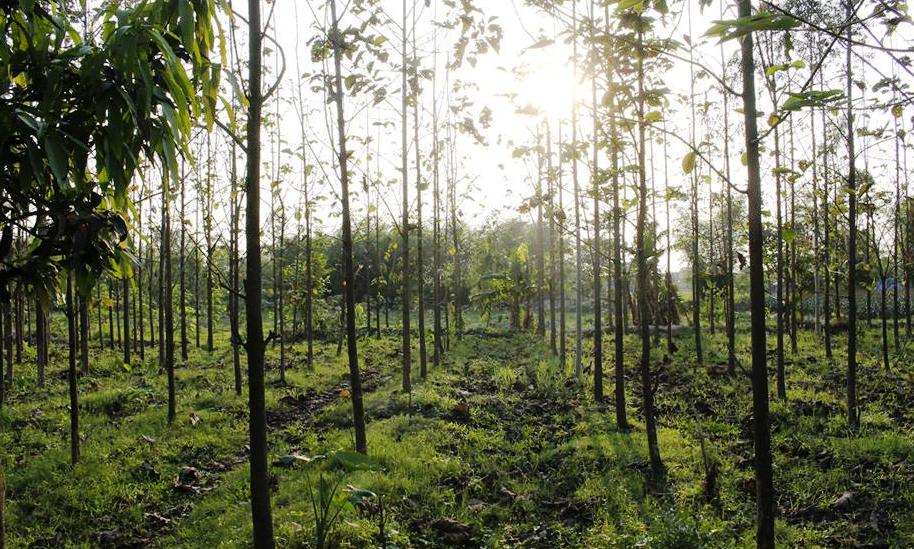 In Nepal, family forestry is  hot topic for the discussion in these days. Mostly, small landholders are growing trees on their private land but they are suffering from various hurdles since long time despite of their efforts to manage the forests in a sustainable way. Fragmentation of land in Nepal is becoming a very serious issues.
Private Forest development Directives, 2012, has made provision to form groups among private forest owners to establish and run private forestry business. But there is hardly any support program to run the family forestry business so far.
The Master Plan for the Forestry Sector, 1988-2011, made target to prepare private forest management plan of 325,000 ha of private individual and allocated 30 percent budget, USD 811 million. However, there has neither been reported the expenditure, nor achieved the target through registration of private forests with management plan as envisioned in the Master Plan. There are only 3,753 private individuals have registered 2,902 hectares of their forest as Private Forests.  But there is no provision for legally registering family forests.
Recently, government decided to flexible for some species through an amendment in 2015 to Forest Regulations, 1995. As per this amendment, farmers can now directly harvest, sell, and transport of 23 common tree species in principle which are mostly grown on private but in practice, the existing procedures are remained as it was before in most of the districts yet. Similarly, another important concern of farmers is biasness in species on family forests.
It is well known that Sal- Shorea robust-is being felled and used in government as well as community managed Forests-community and collaborative forests – in the country.  It means Sal is not in danger of extinct or rare category. But forest landholders are still expressing their doubt to plant or protect Sal, because forest holders restricted to cut down and use the species despite of their legally owned land. Recently, the author observed that Sal seedlings are raised in one of the government nurseries in Terai region.
It is well known that Family forest has very big contribution to conserving biodiversity and great role to sequestrate carbon from the atmosphere. Nepal is signatory of United Nations Convention of Biodiversity Conservation and UN Framework Convention on Climate Change. And the government has already ratified the conventions and formulated a number of policies, strategies and action plans.  But there are no such compensation of biodiversity protection and carbon sequestration which are very genuine concerns of the family forest holders. Can Nepal raise such agenda in the forthcoming Conference of Party of United Nations Framework Convention on Climate Change?  Moreover, Nepal has regularly assessed its forest resources to know the state of forests in the country.
The latest report published by the government could not include the statistics of Family forests in the country. It is reported that the forest products demand of the country is fulfilled by family forest significantly.
Encourage to Family forest can be done through providing provision of collateral, insurance, grants from banks. Further, translate the provisions made in Private Forest development Directives, 2012, into practice –formation of groups among family forest owners to establish and run forestry business. Similarly, regarding family forests registration, it should be done in the nearest offices- that is local government or ward office. There should not be longer and lengthy process for small forest holders.
Further, all the permission should be given by Ward office related to harvest, use and transportation of the family forests products. It will help to escalating the registration of family forest in Nepal.  Family forests should be dealt as agriculture crops. It means there should not be any ban to cut and transport any species and products from family forests. Then government should raise seedlings of valuable species.
Encourage institutions those are in favor of Family forests and support to conduct advocacy program   to ensure the rights of small forest-holders.
Revision on Private Forest Development Directives, 2012, is urged and it should be translated into practice for forming groups among family forest owners to promote family forestry.
Similarly, registration of family forests should be made easier and dealt by 753 local government through the country not only planted forest but also natural forests as well. Regarding the flexible of twenty three species, just keep records in ward level and allow to use and sale as agriculture crops. In addition, plants of protected species should be raised in forest nurseries and make simple system to report, monitor and utilization through the country.
The contribution of family forest should be reflected into the gross domestic products -GDP- and forthcoming forest resource assessment report of the government. The government should revise its National Biodiversity Strategy and Action Plan and incorporate family forest farmer-friendly policy document.  Moreover, Nepal should raise the voice of family farmers in the global climate change forum for compensation.
Paudyal is a Forestry expert
bijayarajpaudyal711@gmail