Local governments to implement climate adaptation
A+
A-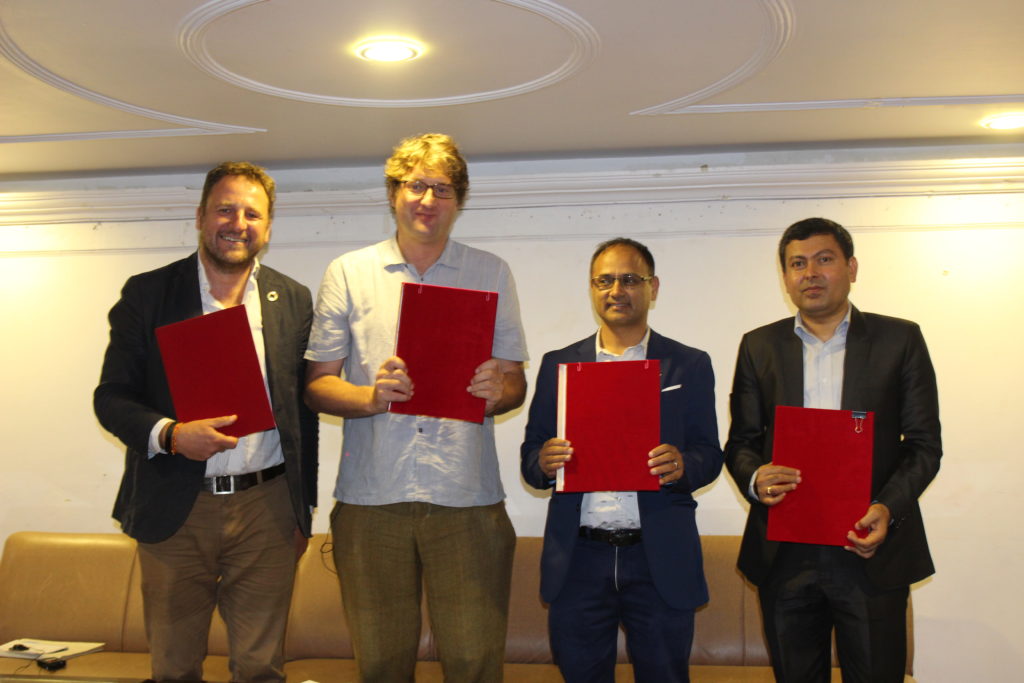 The Government of Nepal, UNDP and the UK's Department for International Development in Nepal (DFID) have signed an agreement to support climate-vulnerable palikas in Province 5, Karnali province and province 7 to design and implement climate resilient development initiatives.
As part of the agreement, the UK will support UNDP to implement the Nepal Climate Change Support Programme (NCCSP) in 14 selected palikas of the provinces. The £2.08 million (NP 30 Crore) project (2018-2019) will be implemented over the next one year, under the leadership of 14 palikas. The project will embed climate resilience into development plans and implement close to 100 locally-identified climate- resilient development projects related to drinking water, irrigation, slope stabilization and water conservation.
A joint project of UNDP and the Ministry of Forest and Environment, NCCSP has been supporting Nepal's climate-vulnerable districts to identify and execute climate- resilient development projects for over five years.
In the presence of Dr. Bishwa Nath Oli, Secretary of Ministry of Forests and Environment (MoFE), Dr. Maheshwar Dhakal, Joint Secretary at the MoFE, and Renaud Meyer, Country Director of UNDP Nepal signed the Project document.  A cost sharing agreement was signed between Dr. Rurik Marsden, Head of Office, DFID and UNDP Country Director Meyer.
As mandated by Nepal's Constitution 2015, there has been a substantial devolution of functions to provincial and local governments. This has enabled them to formulate laws to engage development planning and implementation, including climate change adaptation. However, operational systems to run the local governments on a day-to-day basis are still evolving. In this context, many local governments need to strengthen their institutional capacity in terms of human resources and infrastructure to implement projects and manage funds – including how to manage climate risks better.
"The one-year project has been envisioned as a transitional initiative adapted to the new federal set up of the country, based on learnings from the implementation of NCCSP Phase I from 2013 to 2017," said Secretary Dr. Bishwa Nath Oli.
n the context of federal Nepal, elected local officials are expected to take a leading role in improving the resilience of their communities, an ambitious and challenging task given the vulnerabilities of Nepal that are further exacerbated by climate change. "With continued support from DFID, UNDP looks forward to strengthening the local capacities of municipalities and jointly implement projects to ensure the development gains and progress towards achieving the SDGs are not lost due to climate-related events such as floods and landslides," said UNDP Country Director Meyer.
"Climate change poses huge challenges for Nepal, especially the poor and vulnerable. Each sphere of government has a critical role in building resilience. NCCSP is one of the first development programmes to completely reshape its delivery model in response to federalism. It puts Palikas in the driving seat, helping them to identify and deliver investments that build resilience against climate change," said Dr. Rurik Marsden.