"From Drought to Deluge: Mustang's Mystifying Flood Crisis Unveiled"
Nature Khabar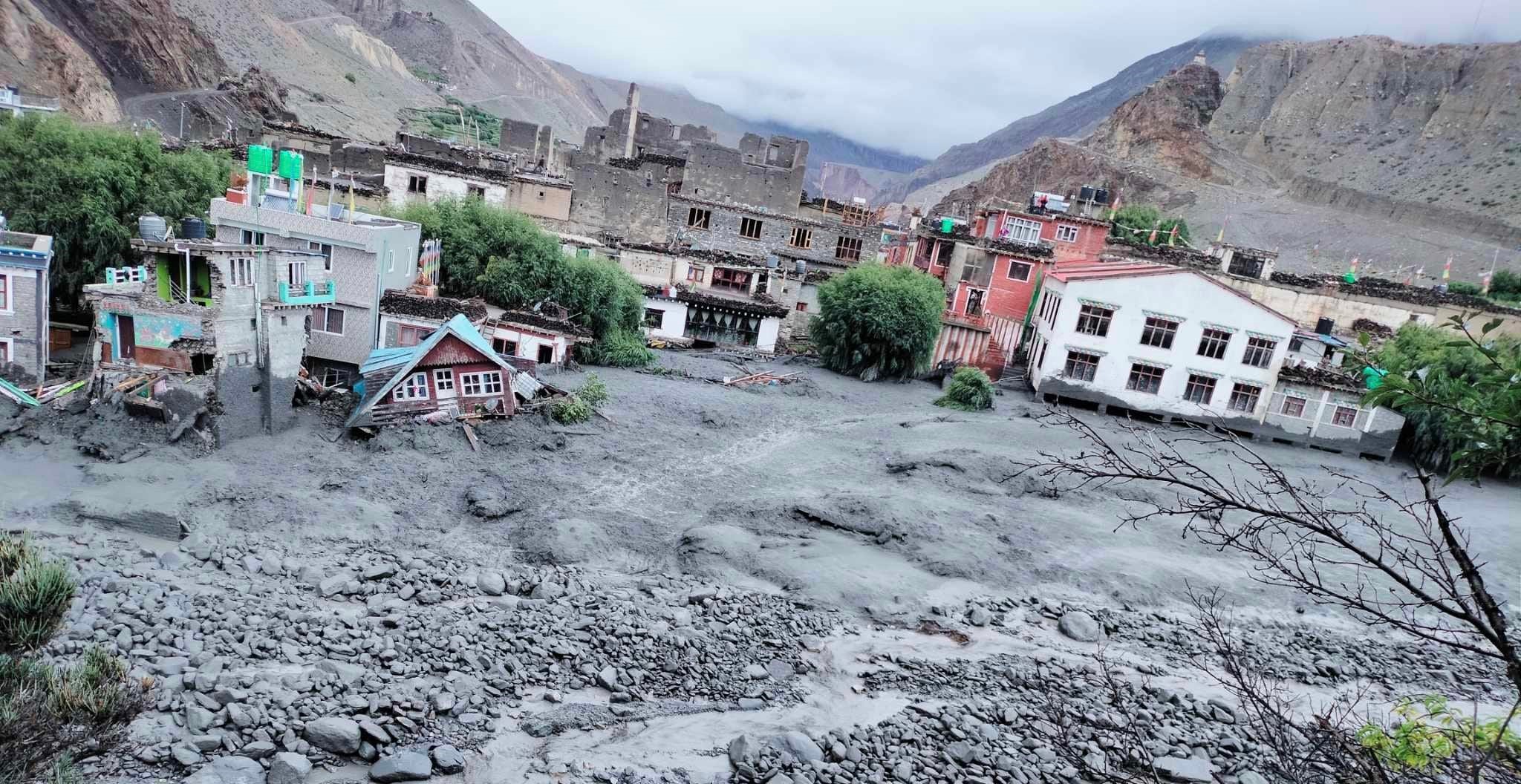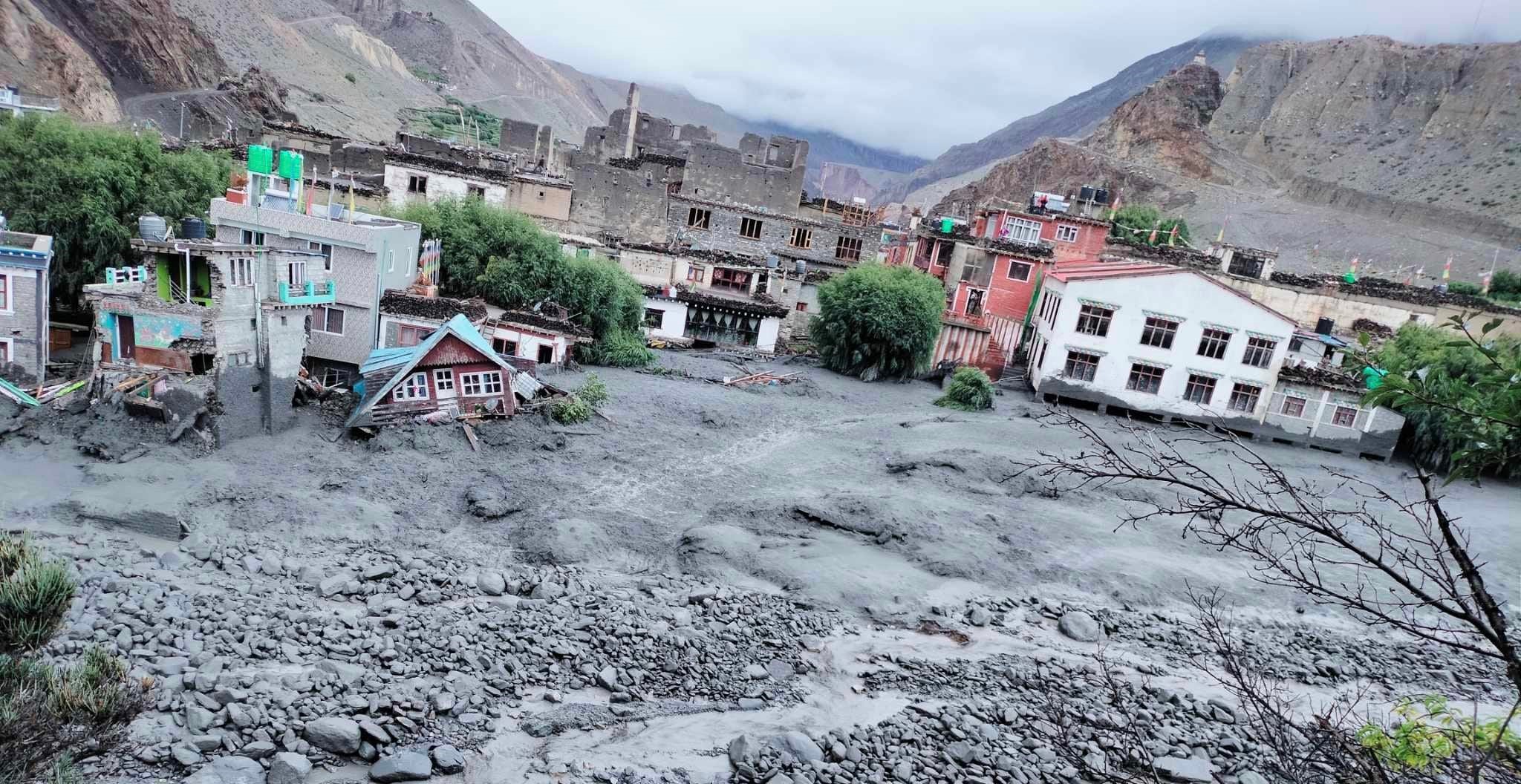 Kathmandu - A severe flood occurred in the Muktinath area of Mustang, Nepal on Sunday night, causing significant damage to the Kagbeni tourist and religious area. Despite the absence of any human casualties, 29 houses, sheds, and vehicles were washed away. Interestingly, this is an unusual occurrence since the region has been facing drought conditions due to inconsistent rainfall. Mustang is an area situated close to high mountains, which largely intercept rain-producing clouds, resulting in less rainfall. However, the excess water has started to fall in the region, leading to landslides and floods.

This situation occurred when the Kaligandaki river was blocked due to a landslide, causing an initial halt in water flow followed by a subsequent increase. Although rainfall data from the nearest monitoring station, Jomsom, shows that rainfall is high, there is not enough information on the impact of the high-altitude rains. Climate experts argue that climate change and the rise in temperature could be the significant reasons behind such incidents.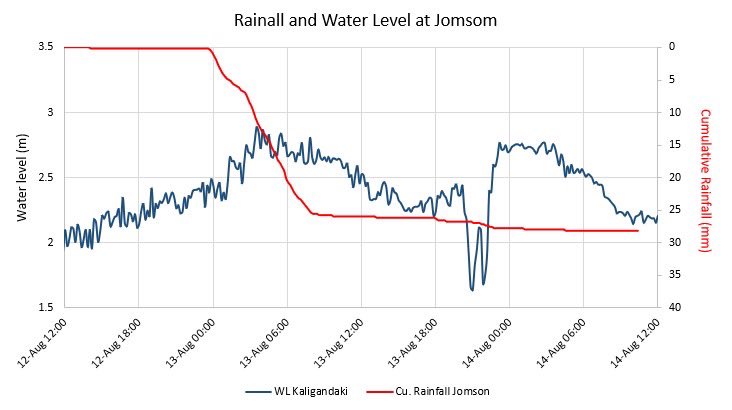 Furthermore, the terrain of Mustang is fragile, and heavy rainfalls have an immediate impact, since there is little soil to absorb the excess water. The floods have caused immense damage to the communities in the Hindu Kush Himalayas, indicating how they are particularly vulnerable to climate change risks despite having the least contribution to carbon emissions.

Binod Parajuli, another expert in natural disasters, supports the idea that the increase in temperature is a major factor behind these incidents. He suggests that this could be a consequence of climate change, as global warming causes the monsoon air to move upward. As a result, heavy rainfall occurs in districts like Manang and Mustang, which are located across the high Himalayas.

In the past, the annual rainfall in Mustang was only around 250 mm. However, recent developments have led to sudden downpours of even greater magnitudes. For example, the 30-day average rainfall in August is 43.9 mm, but in Jomsom, more than half of the monthly rainfall has already occurred in just 24 hours. According to the department, by Sawan 29, 2080, 90 percent of this year's monsoon rainfall in Jomsom had already taken place, leaving 47 days until the end of the monsoon season.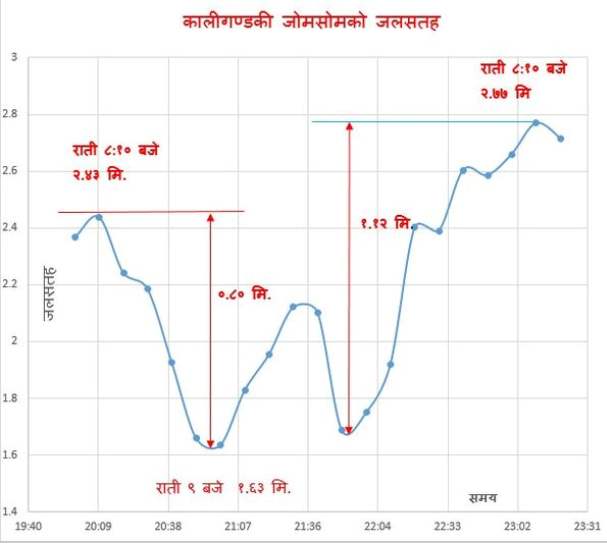 The weak terrain of Mustang, combined with the lack of water, results in dusty soil on the surface. Basant raj Adhikari, the Director of the Disaster Study Center and a Disaster Risk Reduction Expert at Tribhuvan University, explains that the soil's weakness is due to the previous lack of rain. As a result, heavy rainfall can quickly wash away the soil, leading to flooding.

Debris accompanied the floodwaters. Over the past ten years, the communities of Leyte, Jomsom, Tiri, Jhong, and other areas in the Mustang district have experienced five major floods, leading to extensive damage. On Aasar 1, 2078, a flood devastated Mustang's Leyte, affecting homes and causing significant property damage.