Climate change and pandemic hit tourism hard in Ghandruk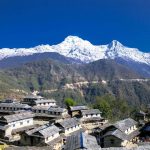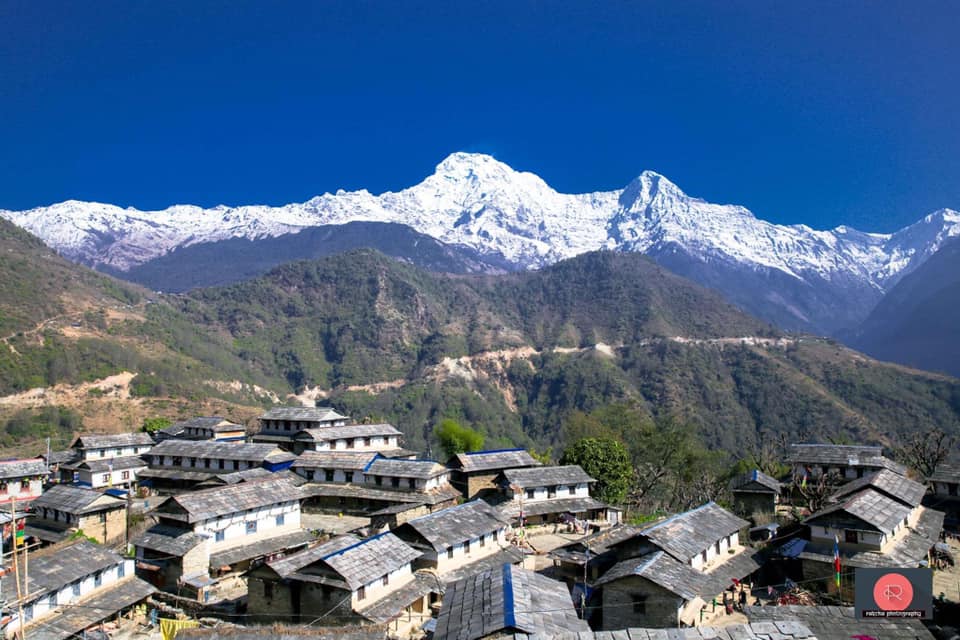 Beena Ghale, 30, owns Annapurna Guest House in Ghandruk, a widely popular hill station along the Annapurna trekking route for international trekkers and a must-visit place for domestic tourists. Though it has been nine years since she began running the hotel, she has not faced the current situation ever before. Not only the current Covid-19 pandemic has hit her hard, but the impact of climate change too has hampered her business in recent years.

With the lockdown due to pandemic forcing the closure of her hotel, Beena now feels that she should opt to do something else. Though her family depended on income from the hotel business, it faces economic challenges and makes her think that livelihood from tourism is not possible any more. "But, we hardly see any other option as we cannot leave this beautiful place," said Beena.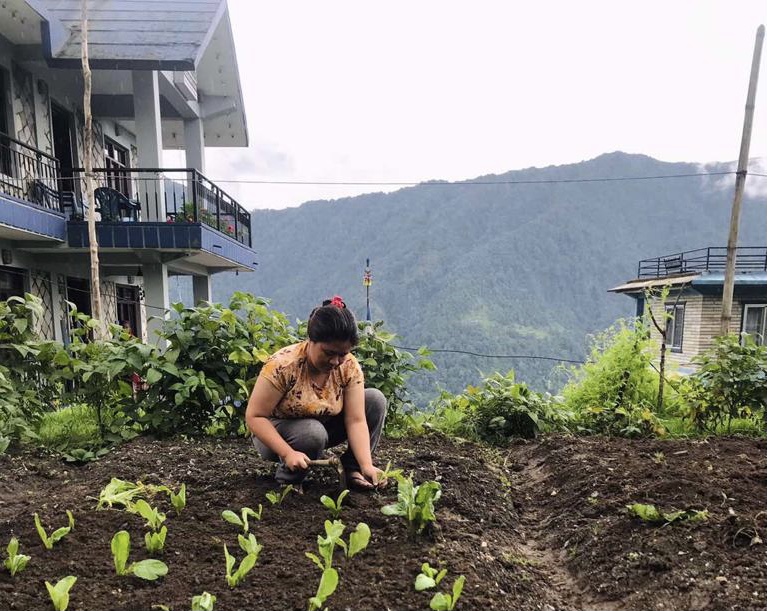 Thus, Beena is busy in her farm for alternate income source. She grows vegetables in her garden but are not even enough for her family, that includes her husband, a nine-year old daughter, mother-in-law and a brother-in-law.Besides the pandemic, one thing that has bothered Beena and rest of the people living and working in Ghandruk area is the extreme weather conditions. "The weather has become warmer and erratic rainfall and unexpected snowfall on high hills has not only hit the trekkers hard but has also affected our agro production," she said. "We heard that this is all about climate change."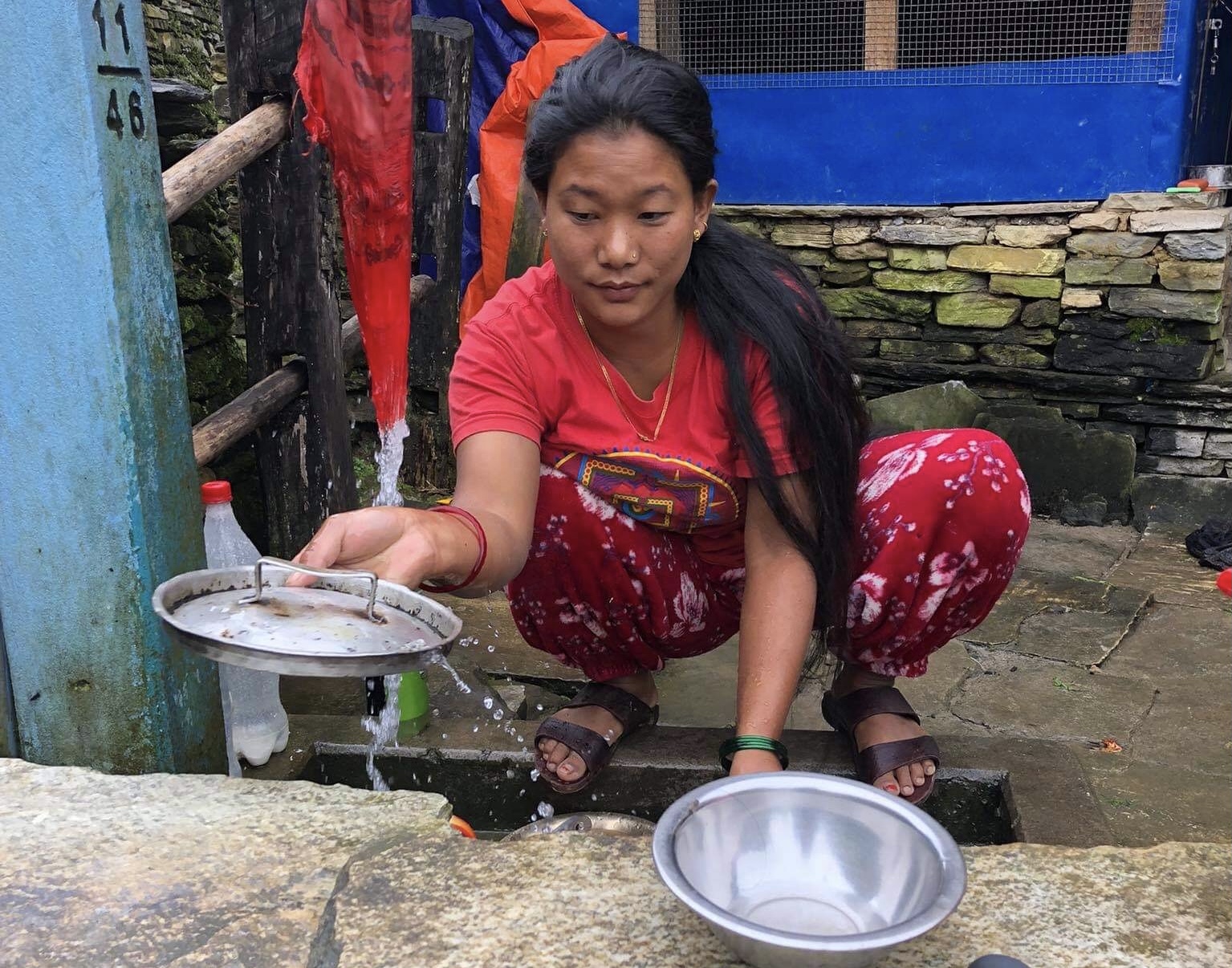 "Due to these climatic conditions, less and less trekkers have ventured into this scenic village," feels Beena.  It has thus become difficult for them to survive in current income, compared to previous years when they used to provide jobs to half a dozen people.

Samita Rana, 26, of Ward no. 11 of Annapurna Rural Municipality in Ghandruk was busy doing the dishes when this reporter met her. She lives with her husband and a six-year-old daughter. They have a small farm land and rely on working in a hotel to fulfill their basic need.

She, however, is worried that she has not been able to grow enough vegetables to sell, making her family difficult to rely on their farmland. Few years ago, she used to sell green beans, cucumber, ginger and green vegetables. But with the changing climatic conditions (new crop diseases, excessive rainfall and unpredictable changes in temperature), she cannot grow enough of these vegetables. The production has gone down. And, even when they grow some, they cannot sell to the hotels as there are no tourists.

" This year, our vegetables got damaged and even couldn't feed the family members," she told this reporter.  "We used to sell green vegetables to the local hotels, but this year, we even had to buy from the market to feed ourselves." Her family's alternative income comes from hotel business. However, with no tourists coming in, they couldn't find any work in hotels. This has forced her to take loans to survive.

Priya Sunar is just 14 and studies in class nine. But she always helps her mother Ram Kumari Sunar in the field. Priya, who is attending online classes since a year, feels that the changing climate pattern has hampered their agricultural production.  "We lost bitter gourd and luffa gourd this year," she shared. In August this year, heavy rainfall damaged their crops and swept away two houses in the vicinity. "Heavy rainfall is repeating and there have been many incidents of landslides this year," she added.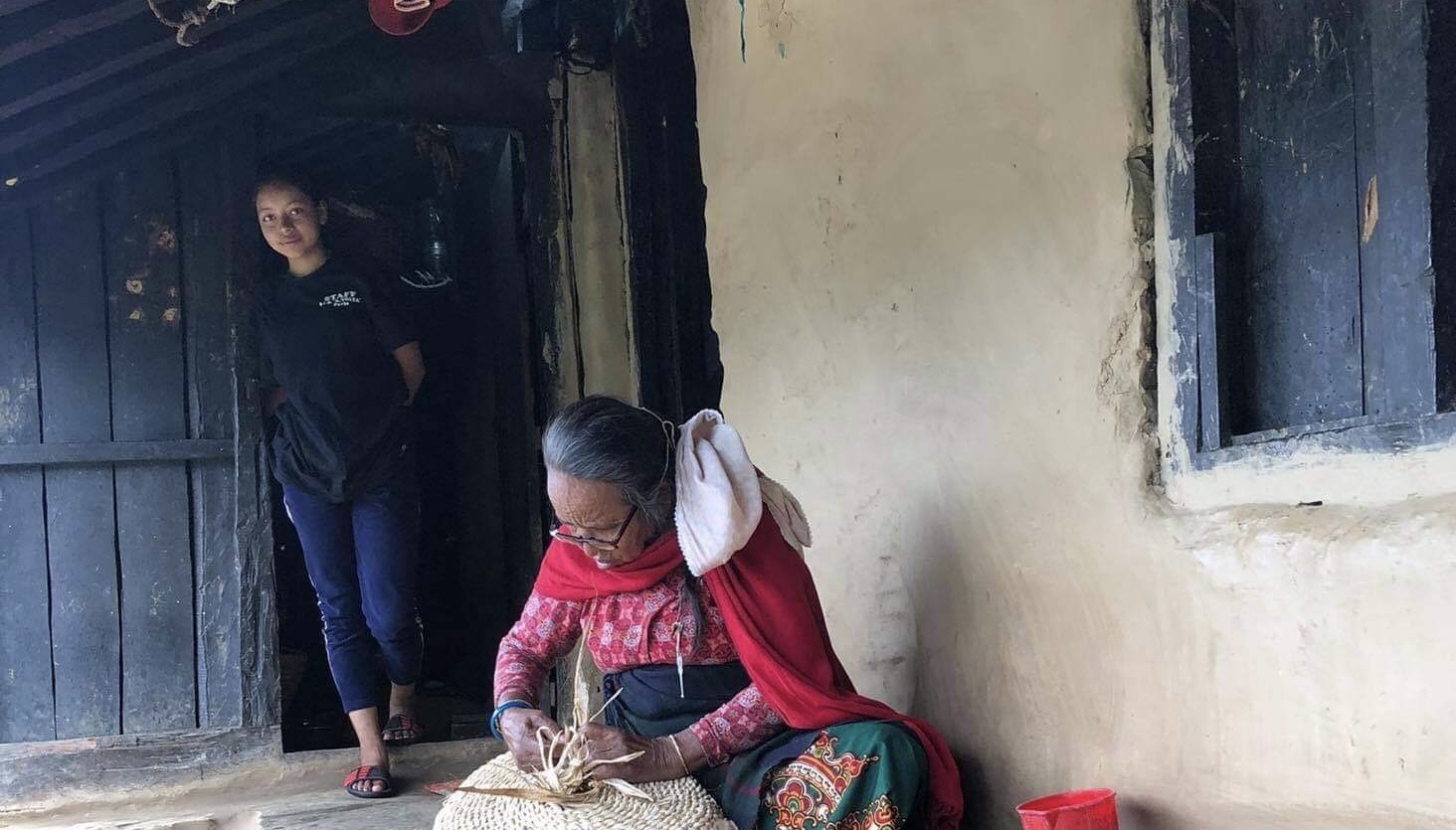 Erratic rainfall and landslides have occurred in this area this year. "I have never experienced such rainfall and landslide before," quips Suku Kumari, Priya's grandmother.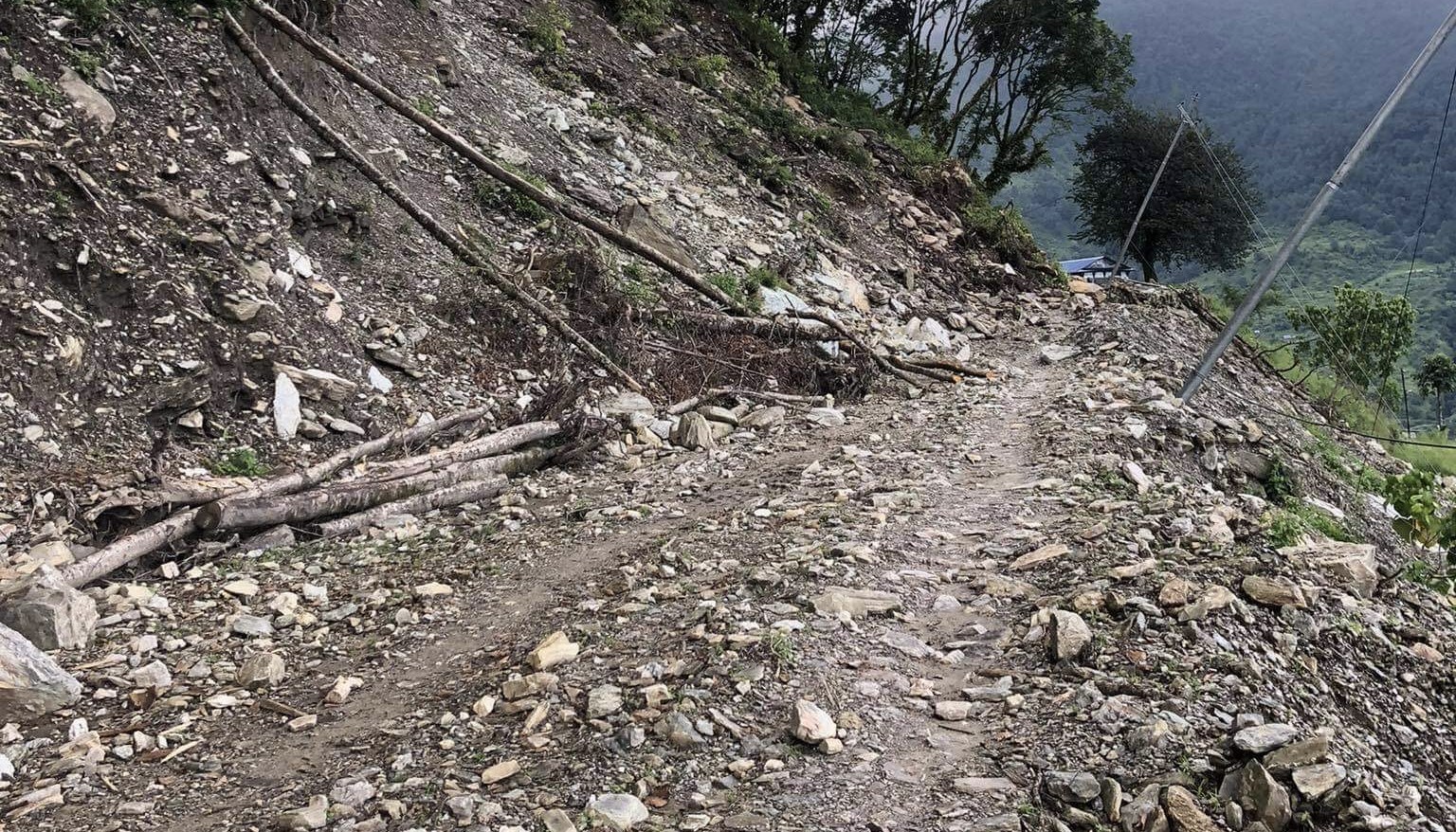 Incidents of floods and landslides have increased in recent years, according to Yuba Raj Kunwar, Chairperson of Annapurna Rural Municipality. He said that 20 incidents of floods and landslides have occurred this year alone. "As a local leader, I have rescued and supported many people impacted by landslides and floods than before," he said. "Especially, women and people from the marginalized community are facing the problem."

Despite being a major touristic place, many people here have migrated elsewhere. The statements of the local people show that the impact of climate change is huge in Ghandruk area. This area has received the highest rainfall this year.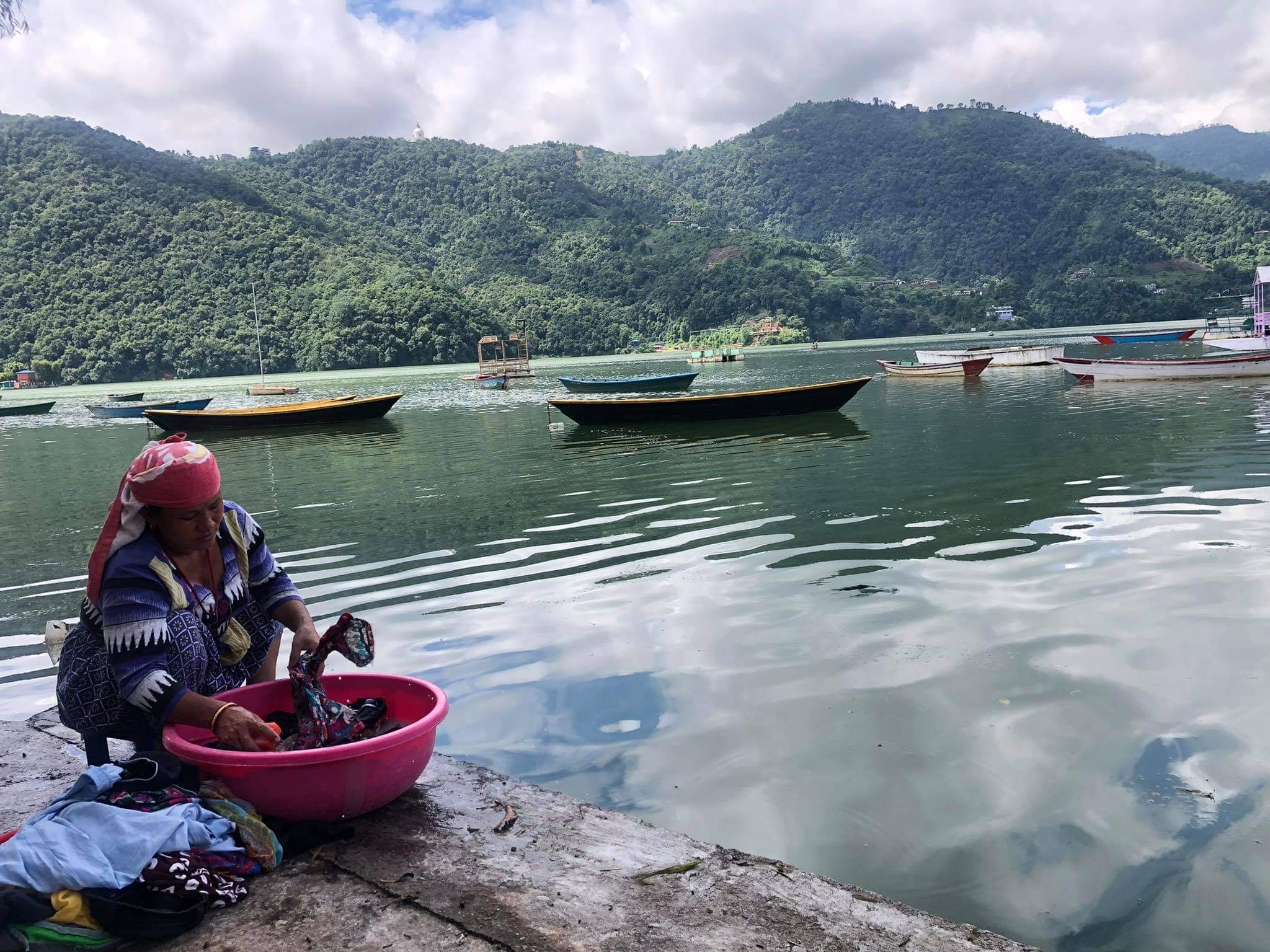 One such example is Sunita Tamang, 50, who was busy washing her clothes in Fewa lake in Pokhara when this reporter met her on a sunny morning. She used to work in hotels along the trekking route from Lumle to Ghandruk area.  "With no job and no people in the villages, I came here looking for work," she shared. She now works for a hotel in Pokhara to meet her needs.

Samjhana Pun Magar, 23 from Killu on the way to Ghandruk, has lost her agricultural land in the landslide that occurred on August first week. Heavy rainfall turned into the flood in the river nearby and damaged rice field and some grass trees for livestock. Now, she needs to go to neighbors' field to collect grass, for which she needs to waste her extra time and effort.

According to the meteorological station in Lumle, Ghandruk, rainfall pattern has changed. It has rained more than previous years. As per the data, it rained 4,239 millimeter in 2011, 2,692.7 millimeter in 2015 and 3,139 millimeter in 2019. Though the latest data for 2020 and 2021 is yet to be analyzed, the station said that it has rained more than the previous years.

It can be clearly seen and experienced that climate related calamities and threats have increased sharply in recent years – be it slow onset of monsoon or extreme events caused by erratic and unexpected rainfall. Some climate variability includes warmer temperature, changing weather pattern and extreme heat which are leading to habitat degradation, decrease in grasslands and wetlands, drought, floods, and landslides.

The government officials at the Gandaki Province agree that the climate change has impacted the tourism sector. "Ghandruk and surrounding areas are undoubtedly facing problems due to change in climate," said Dr. Maheshwar Dhakal, Secretary at the Ministry of Industry, Tourism, Forest and Environment of Gandaki Province. "The topography of this has become risky due to increasing incidents of landslides and floods," he said. "More than 190 people died in these incidents last year."

Realizing this fact, the provincial government is implementing the Chief Minister Climate Change Adaptation Program in the area. This program aims to support local people to adapt to the impact of climate change and improve their economic status.

It is evident that Nepal has seen many extreme weather conditions in recent years due to climate change. Farmers have been hit hard, as shorter but heavy monsoon rains have severely impacted the overall agricultural production. And, undoubtedly, the farmers are facing many livelihood problems.

This has also made difficult for people relying on tourism for their living.  Many people have lost their income due to the impact of extreme weather in the high hills and mountains in recent years.

Untimely and high intense rainfall and snowfall have caused serious threat to the mountaineers, trekkers and travelers. It is difficult to complete the visit in a scheduled time for the tourists.

Take for example, the Hudhud cyclone that swept the higher grounds of Nepal and India in 2014. About 29 people died in a massive avalanche in Annapurna trekking area, as hundreds of international trekkers got stranded along the route.

Be it the snowstorm caused by Hudhud cyclone or the massive floods in Rapti River in Chitwan, the impact of extreme weather conditions has hit the tourism sector hard, said Mandira Singh Shrestha, Program Coordinator of Climate Services, Mountain Environment Regional Information System (MENRIS) at the International Center for Integrated Mountain Development (ICIMOD).

"This has no doubt affected the number of tourists visiting these touristic places," she said, adding, "We need to have proper information system in place to provide proper information on weather conditions to safeguard the visiting travelers."

For example, when the Hudhud cyclone created a havoc in 2014, 114,418 tourists visited that area, according to data made available by the Annapurna Conservation Area Project (ACAP). After the snow storm caused human casualties that year, the number of tourists visiting the area came down to 81,878.

The trend began to pick up again in 2016 which made the locals happy and it continued till 2019 when the Covid-19 pandemic struck. Since then, the tourism has not picked up due to the lockdown imposed by the government to control the spread of the dreaded virus.

That particular incident in 2014 also raised a question on the available data for early warning on the weather conditions, as people believed that the proper information could have saved many lives.

According to Arun Bhatta, a climate change expert at The International Centre for Integrated Mountain Development (ICIMOD), there have been some studies regarding timely climate information but they are not enough. "We do not have proper information due to the lack of scientific understanding of climate change impacts on tourism sector," he said. "More importantly, the lack of knowledge about reducing the impacts climate change has hampered this process."

Gandaki Province is at a high risk due to sloppy land and sensitive livelihoods of people.Ghandruk is one of the beautiful places which used to be crowded with tourists. But, it is not more so. Excessive rainfall is increasing in Nepal including Ghandruk, which makes local women's livelihood difficult. While observing this place, we found that many houses have been swept away by landslides. Many people in the Ghandruk area are seen to have migrated to other places due to landslide and for losing family members. Local women are facing the impact of climate change due to heavy rainfall and disturbing road construction.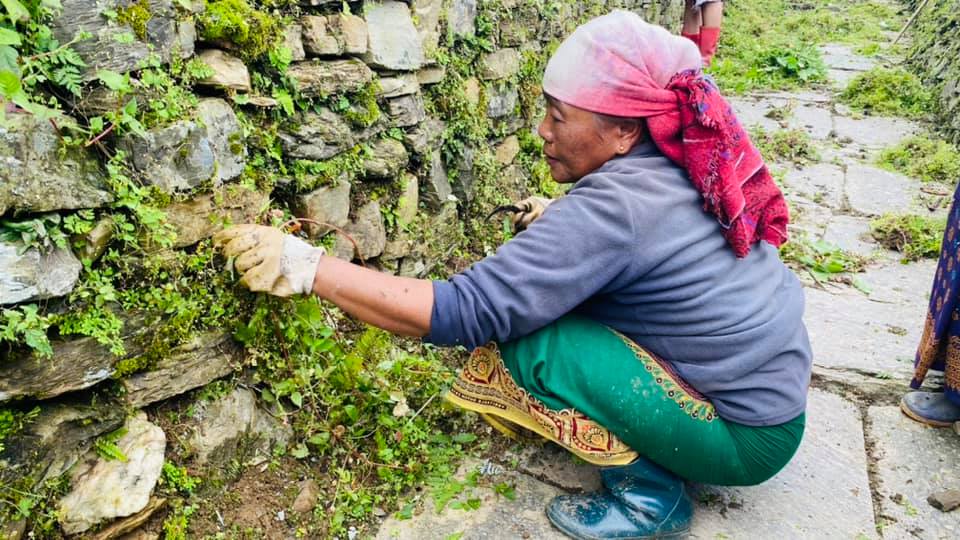 The world is suffering due to the pandemic of corona virus, which has impacted Nepal's tourism sector badly.

According to Dr Manish Raj Pandey, Climate Change expert and focal person of Green Climate Fund (GCF), one of the basic characteristics of Nepal's tourism is the diversity and abundance of its natural resources that creates numerous tourism destinations and products. The major attractions for tourism are the mountain ranges, trekking routes, nature-based tourism sites and cultural heritages.

"Climate change has both direct and indirect impacts on tourism," he said. "It varies from the impacts on the tourism infrastructure due to extreme weather events to losses of biodiversity and increase in natural hazards along with the increase in natural disasters."

He added that it requires the identification of the scenarios of climate change and its consequences for tourism. Besides the specific characteristics, the resources, products, and destinations are diverse and each has a different relationship with climate."It is important to focus on developing and implementing climate adaptation and resilience-building activities that provide clear and practical solutions on how the tourism sector in Nepal can best adapt to and prepare for the impacts of climate change," he further said.

These reports from the locals together paint a picture of an idea experiencing more and more climate related calamities and threats in recent years.

Scientists are observing changes in the Earth's climate in every region and across the whole climate system, according to the latest Intergovernmental Panel on Climate Change (IPCC) Report, released on August 9. The report projects that in the coming decades, climate changes will increase in all regions and the heat extremes would more often reach critical tolerance thresholds for agriculture and health

There is no doubt that changing climate patterns are causing increasing incidents of natural disasters like floods and landslides in recent years. And, these incidents that even cause snowfall in higher elevation have not only impacted the overall tourism business but has also left many people relying on the tourism business to look for alternative sources of income.

This report is supported by the Road to COP26 campaign implemented by the British Council and funded by UKAID.
About The Author