1.7 million people will be affected in this monsoon
A+
A-
It is estimated that about 1.7 million people will be affected in Nepal this monsoon. According to the Disaster Risk Reduction and Management Authority Floods, landslides, heavy and incessant rains, and inundation are likely to cause problems in different parts of the country.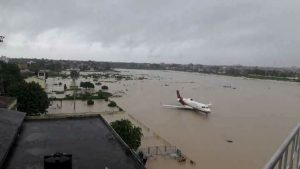 According to the Meteorological Department under the Department of Water and Meteorology, there may be above-average rainfall during this monsoon. NEA spokesperson Dijan Bhattarai said that about 1.7 million people could be affected by this year's monsoon.
Meteorologists have even pointed out the possibility of more rain than average this time. The maximum temperature during monsoon is seen to be below average and the minimum temperature is above average and slightly above average, the department said.
Rainfall is expected to be slightly above normal in the west, normal and slightly above normal in the central part and normal in the east. This year's monsoon is starting a few days ago. However, meteorologists estimate that it will take some time for the monsoon to become active across the country.