36 'Big cats' Poachers Caught in 3 Months
A+
A-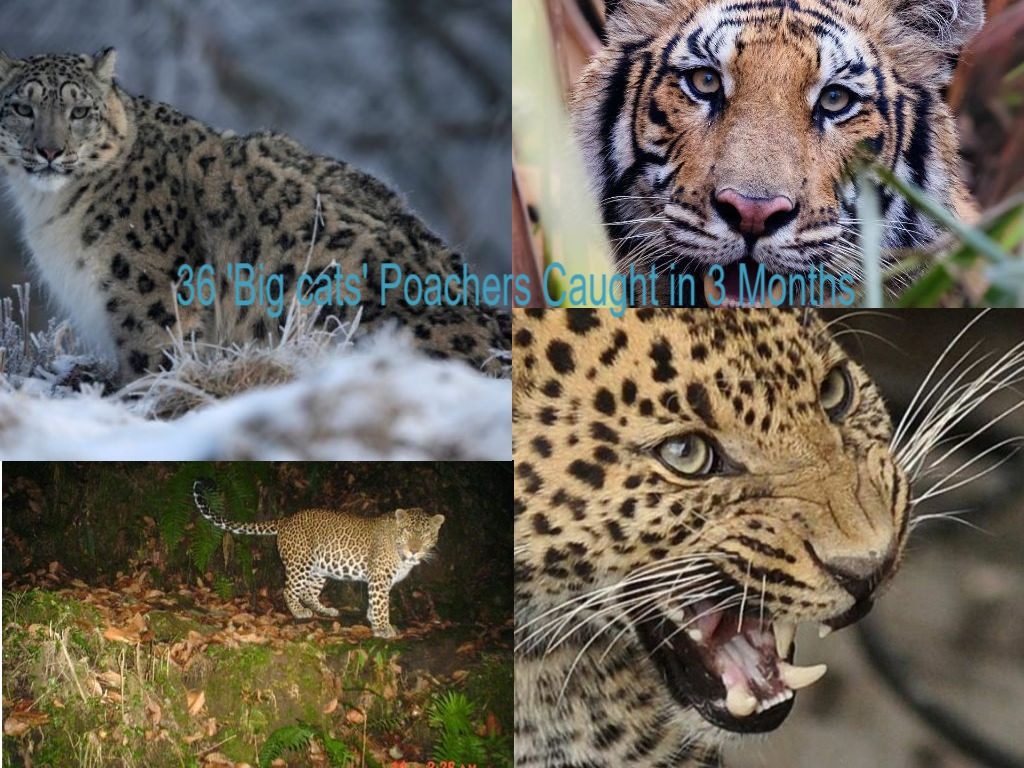 Giri Prakash Roka aged 18 of Rugma VDC; Myagdi district was caught with leopard skin on 22 August, 2018. Giri Parkash along with his friend who is 31 years old was found to be involved in leopard skin trade.
Similarly, 25 years old Jhalak Chantal, 23 years Devendra Rashaili and 23 years Ganendra Sanchula of Baglung, Tamakhola, VDC-6, were charged by Police in Kaski, Pokhara Lekhnath for smuggling leopard skin. Big cats (Leopard, Clouded Leopard, Snow Leopard and Tiger) crime is increasing in recent years.
In current fiscal year 2074/75, 36 peoples were caught by police for smuggling Big cats parts. A close study of the crime data of last three month shows that youths are involved more in wildlife crime. It shows that youths are directly or indirectly involved in big cats parts smuggling. Big cats are very important for ecological balance but it is under threat.
In last 3 months, most of the youth of age group of 20-25 are found to be involved in big cats crime. Likewise, it is also found that usually crime is done in group of 8 peoples.  However, overall data of three months shows most of the crime were done in group of three peoples. Peoples are involved in wildlife crime due to lack of job for their economic survival.
Representative of WWF Nepal, Dr. Ghanshyam Gurung shares that in the federal structure, local bodies should be made enabled to stop such activities.  He said, "There should be multi-stakeholder approach to control the crime related to wildlife crime."
According to Anupam Rana, wildlife crime investigation Pillar chief under Central Investigation Bureau (CIB) Nepal, due to lack of job opportunity people are involving in the wildlife crime. He added that people are unaware about the punishment they get for involving in wildlife criminal activities.
Increasing big cats crime should be the major concern of Nepal government and all the organizations working in the conservation sector. Among big cats, leopard is found more smuggling by people. Inside the National Park and Protected area, recorded of big cats crime is not found directly. But outside of protected area like in urban area police is capturing the people with body of big cat.
Big cats are carnivores animals which play an important ecological role by regulating prey populations and structuring animal communities. In 2018, world wildlife day was celebrated with the slogan of big cats: Predators under threat. World wildlife day is celebrated every year on 3rd March.
 There are 8 types of big cat Cheetahs, Jaguars, Leopard, Clouded Leopard, Lions, Pumas, Snow Leopards and Tigers. In Nepal, four types of leopard are found which are Leopard, Tiger, clouded leopard and snow leopard.
John E. Scanlon, Secretary-General of CITES shares that big cats faces many threats to their survival in the wild, be it loss of habitat and prey, poaching and smuggling, human-wildlife conflict or climate change.
Also, apart from wildlife law implementation, Conservation education should disseminate in protected area and as well as other areas. Wildlife law is strict but people are unknown about the punishment from wildlife crime.National Parks and Wildlife Conservation Act 2029 has made it illegal to wound, kill and trade of wildlife including rhinoceros, tigers, elephants, musk deer, Dhwanshe Chituwa (clouded leopard).
The law has the provision of penalties ranging from Rs 500,000 to Rs 1 million for those found guilty of trading wildlife parts such rhino horn, deer musk, skin of snow leopard, or keeping carcass of other conserved wild animals. In addition, there is also the provision of jail sentence from 5 years to 15 years or both for violating the law. It is crucial to enact and enforce stern law to control poaching of big cats.