Celebrating Mountains Day with stories from the Himalayas
A+
A-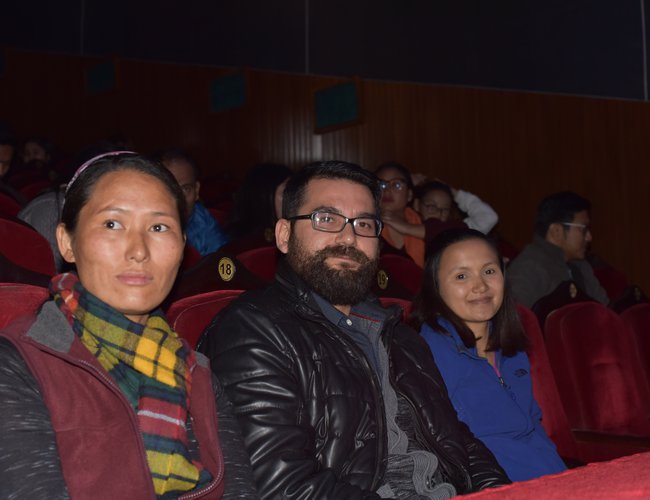 Dawa Steven Sherpa, Tshiring Lhamu Lama, and Shailee Basnet- three of Nepal's prolific individuals shared their tryst with the mountains at the storytelling session held in Rashtriya Sabha Griha on Tuesday.
At the session organized on the occasion of International Mountain Day, the three renowned speakers touched hundreds of hearts with their mountain stories – from conquering peaks to changing lives to building harmony between people, nature, and wildlife such as the elusive snow leopard.
The theme chosen for the 2018 celebrations of International Mountain Day (IMD) globally was "#MountainsMatter" with the objective of highlighting how mountains matter for youth, indigenous communities, and mountain tourism in Nepal and thereby raise awareness on different issues faced in mountain landscapes.
Setting the stage for the speakers, Prashanta Manandhar, the founder of Storytellers said,"Everyone has a story and through our platform, we have always wanted to reach out to the world with those inspiring tales and on Mountain Day, what better way to do it than through stories of the mountain, from people who have lived with the mountains.'
As a part of this year's Kathmandu International Film Festival, WWF Nepal along with
KIMFF and Storytellers organized the session that saw a stellar participation of around eight hundred attendees including students from schools and colleges, representatives of various organizations, and journalists among others.
Nepal will only be able to graduate to a mid-income country if the mountains are protected because only healthy mountains will ensure continuous inflow of tourism and running hydropower projects, a basis for a developing economy, stated Dr. Ghana S Gurung, Country Representative of WWF Nepal.