Nature, History and Science Never Write Final Story, Says Army After Sharing Pics of 'Yeti' Footprint
A+
A-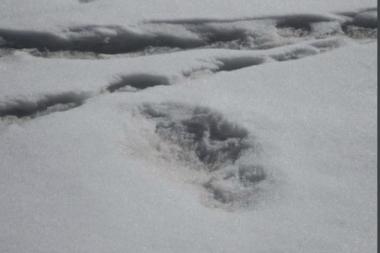 The Indian Army on Monday claimed to have seen a huge footprint of mythical character Yeti near Makalu Base camp in Nepal.
Taking to Twitter, the Army shared the images of the footprint, measuring 32×15 inches.
The footprint was reportedly seen by the mountaineering expedition team of the Army on April 9. It said the "elusive snowman" has also only been sighted nearby at Makalu-Barun National Park.
"For the first time, an #IndianArmy Moutaineering Expedition Team has sited Mysterious Footprints of mythical beast 'Yeti' measuring 32×15 inches close to Makalu Base Camp on 09 April 2019. This elusive snowman has only been sighted at Makalu-Barun National Park in the past (sic)," the army said in the tweet.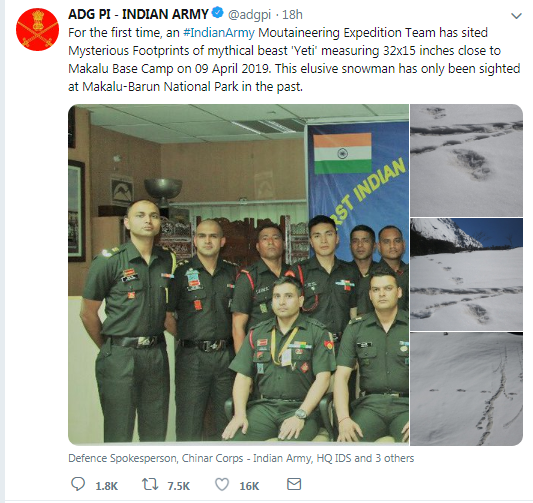 The image shared in the tweet shows imprint of only one foot.
"As they say nature, history and science never write their final story," the Army said, adding that the story is based on physical proof. It said that they had received the inputs about 10 days ago, but held on to it. "We tweeted as we thought prudent to excite scientific temper and rekindle the interest. Some of us who reject the story, surely shall have a definite answer to the evidences," the Army said in the statement.
Yeti, called an abominable snowman owing to its huge size, is a character mentioned in the Nepalese folklore and is said to inhabit the Himalayas, Siberia, Central and East Asia. There have been researches over the existence of the mythical character, with some people claiming to have seen it.​
#News 18.com