Maghi songs and Tharu Identity
Feb 6th, 2020
A+
A-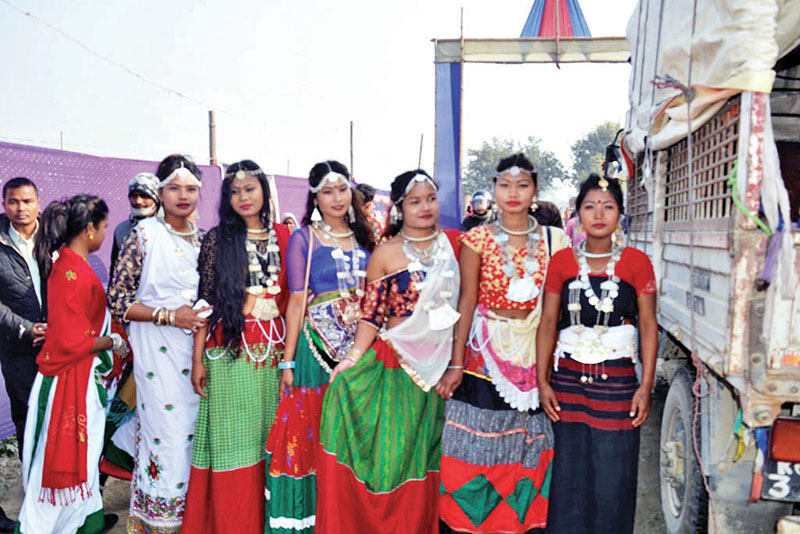 Maghi is one of the greatest festivals observed by Tharu community in the western part of Nepal. For many, Maghi refers a carnival that is similar to new-year celebration and for other it is the party of Dhikri, Mususw and Jand at all. Maghi, in the context of Tharu people, speaks more about their history, life style, way of thinking and their identity as a whole. It reflects its own Tharu tradition. This culture acts as a potent symbol for belonging, for individual identification with a particular group.
The ignored parts of Maghi celebration are songs in which every Tharu bursts during the Maghi dance. Maghuta are the songs performed during the Maghi dance from the day of Jiita marna to a week long. During the Maghi week, there appears several male and female groups of singers in their special colorful and charming dress singing and dancing, and asking for money from one house to another. Moreover, Maghi songs are not ephemeral singing songs rather they are like language move in a certain pattern with creativity. The songs, sung in the different interval of Maghi, are of different in nature.
When a group of singer reaches at a house in the village they give life to the dumb words making the home owner awake in the cold night of winter. They begin the performance uttering: Aaigaili ho hamre hjurke duwariya (Oh home owner we came at your home.
Utho beli fuko Ujarar (please wake up and light the fire.)Maghi songs carry various themes with different motives. The songs of love affair to the songs of hardships in agrarian life are brought together. Songs become a medium of freeing their innermost feelings-joys, sorrow, fear and jubilance whatever touches them in their daily life and whatever changes occurring in their territory are reflected in their songs.
Generally, Maghi songs are repetitive in nature and dialogic in pattern. The singers in Maghi performance, get divided in to two groups representing either father and daughter or sister in law and brother in law. Being a duet in structure, the singers take their respective sides, and the duet songs get expressed in panoramic and aesthetic manner. That is to say, the songs go in answer-question pattern. Though the singers are all females, they boldly and confidently act upon the given roles to run the Maghi songs.
The popular songs between Sali (sister in law) and Bhatu (brother in Law) do not represent any serious subject matter. The part of Sali and Bhatu song generally depicts the glorification of ornaments and the crazy wishes of Sali to have them, in order to beautify herself. In the same fashion, the Bhatu answers that he will buy them next time. Further he persuades her that the ornaments demanded by Sali have been too much expensive that he couldn't afford them. However, it is Sali, who hopes that Bhatu will be the source of different ornaments, and appeals for those ornaments like Tikuli, sendur, Kajula, Tara etc. As the song goes:
Sali: Sakari Goliya, namki Shahariya re han, Shakhiya ho, Nani deho Bhatu Sindur Bajar
(The streets are very narrow in Lamki bazaar (oh my friends) please Bhatu buy earring for me)
Bhatu: Gainu bagariya, dekhanu senduriya re han, Shakhiya ho, salik sindur bhoila mahanga (I went to bazaar, I asked for it (oh my friends) sister- in- law it was very much expensive)
In the above Maghi songs Sali asks Bhatu, who is going to lamki bazaar, to buy some cosmetic and ornaments for her. In response Bhatu says that he went to lamki, and saw them but he could buy it because it was expensive. This song highlights the intimate relation of Sali and Bhatu existing in Tharu tradition.
Similarly the songs between father and daughter also revolve around the themes of ornaments. The passion of daughter towards expensive attire compels her to ask her father to buy them. But her father presents the same reason of inaccessibility up to that position to decorate his idiosyncratic daughter, as put forwarded by her Bhatu. He tries to make assure his daughter that next year he will work hand and manage the demand.
Daughter: Sendur, sendur kanu baba sendur nai ledelere ,Sakiyaho, Sendur ka karan baba chornu duwar. (I ask for sindur many times father but you did not buy it (oh my friends) because of that left the home)
Answering the daughter's situation, father tries to consul her saying:
Aausak sala dhiya sendur mahang bhailarihan,Sakhiya ho, Aago sala dhiya dehabu bisai. (This year sindur is very expensive (oh my friends) I will buy next year for you)
In this way, the song depicts the loving relation between father and daughter. Apparently, there is not communication gap and sense of hierarchy. The daughter feels free and frank enough to put her demands Therefore, in above song, the daughter says she left the house because he couldn't buy cosmetics for her. In response, father promises that he will buy them next year since the price is high now.
In addition to above mentioned themes, the Maghi songs revel the hardship of their life, their economic condition and the high grandeur of nature. As Tharu people have close relation with nature, their songs, to great extent, incline and praise the nature. In such songs, they talk about the plants like Babari Tulsi, Aamilic, and so on. One of the Maghi song goes:
Han han re han, Aagana bahari ghurara lagainu,jinha mana Jamire gaili Tulasa, Bebari(sweeping the front yard I made a heap of dust, there grew the plants, Tulasi and Babari)The plants like Tulsa, Bebari, Belata and Babur etc., as mentioned in the songs, have cultural importance among the Tharus. These plants are the plants of frequent use in Tharu ritual celebration. For instance, in Dashain they use Bebari as Jamara. Bebari is considered as a sacred plant. Tharu do not offer other flowers to their deities as Hindu do. Rather they offer Baberi to their Bhutuwa (deities)
Cultural performances like dance, song, music festivals and others have been used in attempt to develop a familial unity among Tharu and for voicing their ethnic belongings. The traditional songs of Tharu, which are ancient and transmitted properties of society, cannot totally inscribe on pages. The pure aesthetics of performance can be felt at the time of real performance- in appropriate time, situation and condition. Tharu Maghi songs, being rooted in local grounds, speak about love affair, family relationship and their agricultural.


Mr Koirala is from kalikot . Currently, he is working as a secondary level English teacher at Panchadev Secondary School , Manma ,Kalikot.