Red Panda: Perception and Conservation
May 5th, 2017
A+
A-
Red Panda is a red cat bear, which is called Habre in Nepali. It is a Himalayan member of Carnivora which is scientifically named as Ailurus fulgens and also called lesser panda. It is an (endangered A2cde+3cde+4cde ver 3.1) species mentioned in Red List category and listed in Appendix I of CITES. It is also protected species in Nepal, India, China, Bhutan and Myanmar.
It loves to feed highly fibrous bamboo (Kong et al., 2014) though it ingests some other kinds of plants, such as fruits or berries, as their seasonal supplement (Fuwen and Zhang, 2010a). So, bamboo presence and cover is essential habitat feature for Red Panda (Sharma et al., 2011).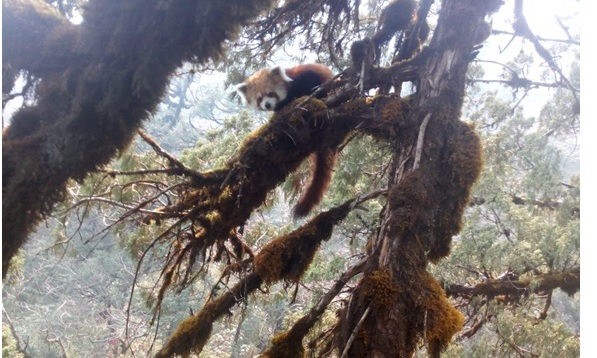 Red Panda lives in a narrow range of altitude from 2,500–4,000 m (Roberts and Gittleman, 1984) however it has been reported down to 1,500 m in winter (Prater, 1948) and up to around 5,000 m in summer (Choudhury, 2001). It migrates seasonally up and down (Glatson et al., 2015; Yonzon and Hunter, 1991).
Red Panda generally avoids south-facing slopes preferring cooler climate of the north, northwest and northeast aspects (Dorji et al., 2012; Mahato, 2004; Panthi et al., 2012; Pradhan et al., 2001; Sharma et al., 2014; Yonzon and Hunter 1991; Zhou et al., 2013). However, it can be found on south-facing slopes sometimes.
Habitat loss along with habitat fragmentation, habitat degradation are affecting over 2,000 mammal species, which is the greatest threat for flora and fauna globally (Wang, 2015). Habitat fragmentation (Fuwen and Zhang, 2010b ; Mahato, 2005), habitat destruction (Dorji et al, 2012; Mahato, 2005), habitat loss (Fuwen et al, 1999; Preece, 2010) due to deforestation, collection of forest products (Bearer et al., 2008; Dorji et al., 2012; Mahato, 2005; Zhou et al., 2013), livestock grazing (Dorji et al, 2012; Mahato, 2005; Sharma and Kandel, 2009; Zhou et al., 2013), road construction, inefficiently managed tourism (Dorji et al, 2012) are serious threats for Red Panda.
Poaching (Choudhury, 2001; Fuwen et al, 1999; Sharma and Kandel, 2009; Zhang etal., 2008; Zhou etal., 2013), killings by domestic dogs (Dorji et al, 2012; Yonzon and Hunter, 1991b) and human-Red Panda conflict are another threats for Red Panda.
Global population of Red Panda is estimated about 16,000-20,000 based on lowest recorded average density and total area of potential habitat (Choudhury, 2001). Its population is declining due to low fecundity, high infant mortality rate (Yonzon and Hunter, 1991b), parasitic infection (Zhang et al., 2008), population isolation, bamboo flowering (Fuwenand Zhang, 2010b) and above mentioned anthropogenic threats (Glatson, et al., 2015). Therefore, conservation of Red Panda is the must and urgent.
Around 22,400 km2 of Nepal is predicted as suitable habitat for Red Panda which is 56.25 percent of potential Red Panda habitat in Hindukush Himalaya. LNP (Langtang National Park) is one of the prime habitat of Red Panda. LNPBZ (Langtang National Park Buffer Zone) which is listed in IUCN Category VI covers area of 418.3 km2 adjoining Nuwakot, Rasuwa and Sindhupalchok districts of Nepal.
There are altogether 21 User Groups of LNPBZ. Indreni Buffer Zone Users Group is also one of them. Thirty (10 percent of 305) households of this user group were sampled purposively and surveyed by Chandra Gurung Conservation Foundation in 2016 to assess their perception on biodiversity conservation, LNP, LNPBZ and Red Panda since perception of buffer zone community is crucial for biodiversity conservation specially that of endangered species.
Among of all respondents, around 63.33 percent were male and 36.66 percent were female. Around 73 per cent of respondents were youth and remaining were elder people. Majority (70 percent) of respondents were engaged only on agriculture and minority of respondents also depend on other than agriculture. Only 3.3 percent of respondents were with higher education.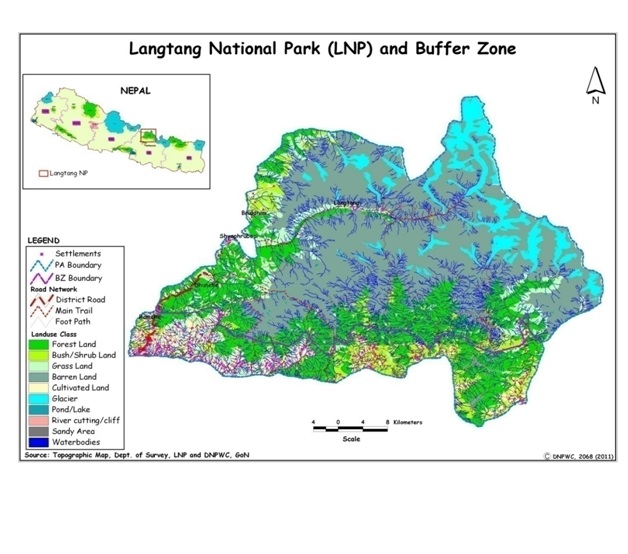 In their perception, biodiversity is how rich they are in forest and wild animals. Saving flora and fauna is the biodiversity conservation. About 73.33 percent of respondents know about biodiversity conservation. Good thing is that majority (76.66 percent) of respondents believe that biodiversity conservation helps to promote tourism, protects from landslides and soil erosion by forest conservation. People have benefit of forest products like wood, grass, timber etc. from forest.
Awareness has been increasing by various training and programs throughout biodiversity conservation projects. Most of them believe that economic progress is possible after biodiversity conservation directly or indirectly. However, 20 percent of respondents do not know either biodiversity conservation is necessary or not. About 83.4 percent of respondents said that they have been participated directly in conservation activities like plantation, awareness program, anti-poaching task, nature guiding, training etc.
Regarding benefit of LNP, around 47 percent of respondents believe that they have benefit of having LNP and 26.67 percent of them are unknown with benefit of LNP. Majority (67 percent) of respondents are satisfied with overall management of LNP and its Buffer Zone but expect inclusive decision-making and equal participation of all in conservation activities. Most (80 percent) of respondents have heard about Red Panda and about 30 percent of respondent shave seen Red Panda. Around 53.4 percent of respondents have participated in Red Panda conservation directly.
People oriented biodiversity conservation should be promoted more in such buffer zone communities for effective implementation and successful conservation of Red Panda. Sufficient drinking water, proper education, health facility and electricity in such buffer zone community would avoid biotic pressure not only on Red Panda but also on biodiversity conservation as a whole. Study on effectiveness of awareness program and people's perception of other buffer zone community of Langtang National Park towards Red Panda and its conservation might be new research avenues.
Chandra Gurung Conservation Foundation
Kathmandu, Nepal