Monsoon arrives, few days to expand across the country
A+
A-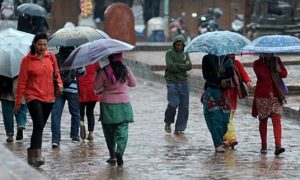 This year's monsoon has entered Nepal. According to Meteorological Forecasting Division, Monsoon entered Nepal through the eastern part of the country.Although the Meteorological Forecasting Division had released its weather bulletin on June 11 saying Nepal would have to wait for a few more days to welcome monsoon, it announced its arrival. This year monsoon delay by two days. Last year, monsoon entered Nepal on June 15 after a delay of five days.
According to the Meteorologist Samir Shrestha, It might take about a week for the monsoon to be active throughout the country. A seasonal outlook recently issued by South Asian Climate Outlook Forum had predicted above normal rainfall over large tracts of South Asia during this year's summer monsoon.
Citing the SASCOF report, the MFD said Nepal was most likely to receive normal rainfall during monsoon this year. Generally, monsoon enters Nepal on June 10 and withdraws on September 23 every year. Nepal receives an average of 80 percent of annual rainfall during the monsoon, which originated in the Bay of Bengal and moves along the southern flanks of Himalayas, bringing rains to Nepal.