Project formulation for building climate resilience in vulnerable watershed
A+
A-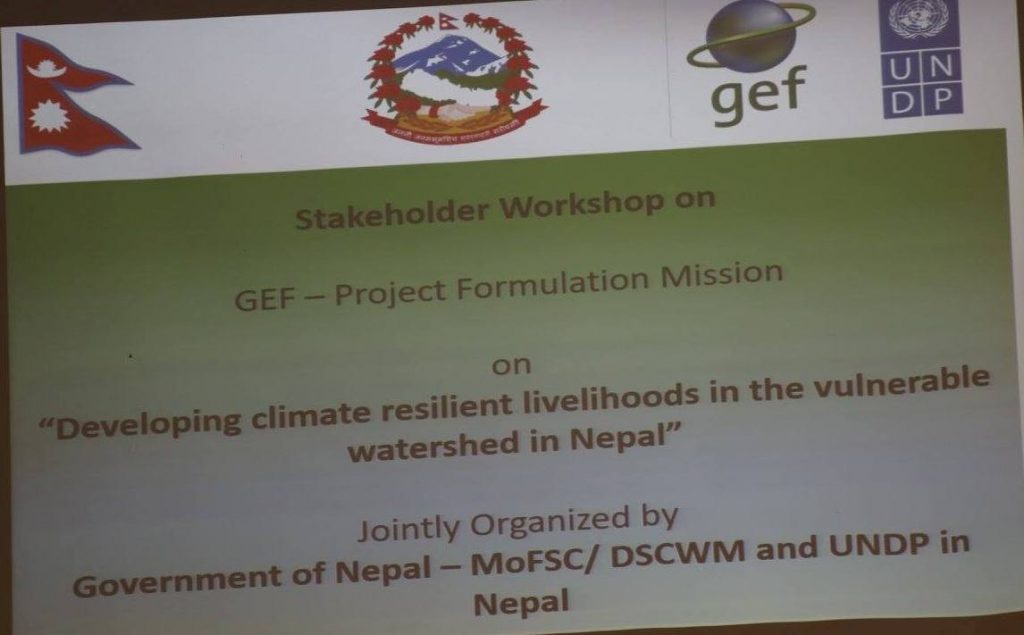 "Developing Climate Resilient Livelihoods in Vulnerable Watersheds in Nepal", a Least Developed Country Fund  ( LDCF) / Global Environment Facility (GEF) funded project aimed at addressing climate risk management issues, is close to taking final shape.
The project has planned to establish and integrated watershed management framework to address climate change induced floods and droughts, and introduce integrated adaptive watershed management practices. These interventions are set to be scaled up in three districts covering 10,000 ha (100 Sq Km) of watershed areas, benefiting 40,000 vulnerable people.
In the Stakeholder workshop organized in Lalitpur on last week , Deputy Country Director of UNDP Nepal, Sophie Kemkhadze said that UNDP stands committed to support the Nepal government to access additional resources from various global funds like GCF, GEF and others "with the sole purpose of ensuring timely actions to benefit and save lives of the vulnerable people of Nepal."  Sharing the experience of implementing the first GEF-LDCF project, Director General of Department of Hydrology and Meteorology highlighted the need to develop such projects that support the Government in addressing high level climate risks. In the same vein, Vijaya  P Singh, UNDP Assistant Country Director emphasized the significance of an integrated approach for watershed management in the present changed context of governance.  Dhananjaya Paudel, Joint Secretary / Chief – Foreign Aid Coordination Division, MoFSC, meanwhile focused his session on the need for better coordination and avoidance of potential overlaps and duplication, highlighting the importance of considering downstream and upstream linkages while designing projects.
In the technical session, Keti Chachibaia, RTA, Climate Change Adaptation, UNDP, pointed out that though there is recognition of the root causes of vulnerabilities, there are challenges and barriers in addressing them and eliminating the underlying causes. "Inadequate policy provisions to help address the integrated climate adaptation measures and technical capacity inadequacies are the major barriers," she added. Along the same lines, Dr. Margaretta Ayoung, Project Formulation Team Leader, pointed out the necessity of planning and implementation of natural resource management, integrated watershed management approach and watershed friendly livelihood and land-use practices to minimize the damaging impact on the watersheds. Dr. Prem Paudel, Chief, Planning Section, Department of Socil Conservation and Watershed Management/ Ministry of Forest and Social Conservation, touched upon the importance of watershed as it encompasses biodiversity, natural resources and livelihood base.
UNDP is supporting the Government of Nepal by channelizing global fund through this project. Previously, UNDP had assisted the Government to channel LDCF for the "Community Based Flood and Glacial Lake Outburst Risk Reduction Project" after the submission of NAPA in 2010 and this project is coming to an end in 2017.