China provides post-flood recovery assistance to Nepal
A+
A-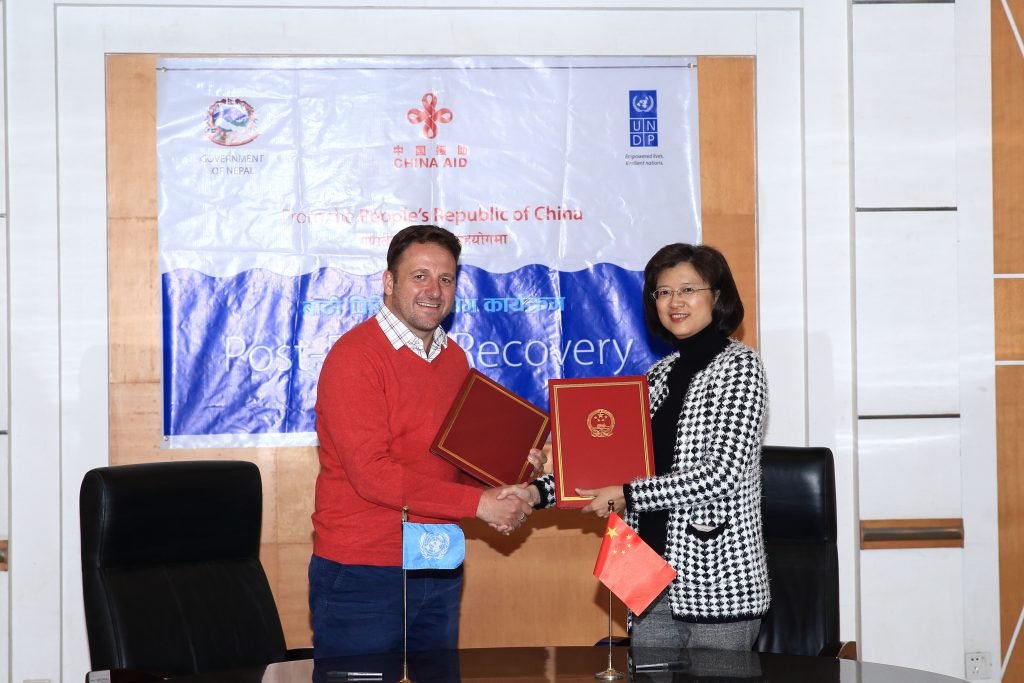 China partners with UNDP to provide post-flood recovery assistance to over 31,800 households in affected areas of Terai region one of the worst floods in recent history.
The assistance provided under the framework of the Chinese South South Cooperation Assistance Fund, will reach 31,800 households in Sunsari, Saptari, Sarlahi, Dhanusha, Mahottari, Rautahat and Parsa districts of Provinces 1 and 2.
This assistance comes in response to the extensive damage and displacement caused by the 2017 floods in the country's south. In August last year, the Terai experienced the heaviest rainfall recorded in the past 60 years, resulting in widespread flooding across 35 districts, taking the lives of 134 people, destroying over 43,000 houses, partially damaging 192,000 houses, and displacing tens of thousands of people. Over 80 percent of land in the southern Terai region was inundated. A post-flood assessment conducted by the Government of Nepal found that 1.7 million people were affected by the disaster.
The project funded by China and implemented by UNDP will work in close coordination with the Government of Nepal's Flood Reconstruction and Rehabilitation Project housed under the National Reconstruction Authority (NRA) through which the recovery package was finalized and beneficiary households were identified. At the field level, the project will collaborate with newly elected governments in carrying out the distribution of a package of non-food items, which includes shawls, blankets, cooking utensils, an insecticide-treated bed net, a clean cooking stove, a water filter and hygiene kits.
"The Government of Nepal would like to thank the People's Republic of China for providing crucial post-flood recovery support to the affected people of Nepal," said Dr. Suman Kumar Karna, Project Chief, Flood Reconstruction and Rehabilitation Project in NRA.
Yu Hong, Chinese Ambassador to Nepal, expressed satisfaction at being able to contribute to the post-flood recovery. "Last August, the Chinese Government provided US$ one million grant assistance to the Government of Nepal for flood disaster relief. This time, we offer another US$ four million to help the Nepali people in the flood affected Terai region recover from the disaster. We are glad to work together with UDNP to provide this recovery package, which includes some basics that are certain to prove handy in a post-flood situation. "
To ensure efficiency and transparency of the distribution process, UNDP is using a mobile app, developed with technical support from Microsoft that enables project staff to work seamlessly through multiple distribution channels and track the progress against set targets, using a unified database of beneficiaries. Details of individual households are recorded in the system and the heads of the households are provided with a QR card, which they must present when collecting their packages at the nearest distribution centre.
"We are pleased to partner with the Government of the People's Republic of China in contributing to the recovery of flood affected families" said UNDP Country Director Renaud Meyer.