Wetland: Resource hub, not disposing site
Feb 2nd, 2018
A+
A-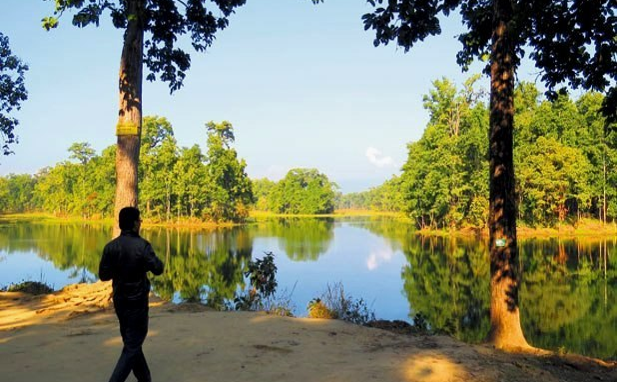 "Wetland for a sustainable urban future" putting forward this theme for worlds wetlands day in the year 2018 is marking today globally. This day marks the date of adaptation of the Convention of Wetlands on 2 February 1971. Ramsar is the oldest of the modern global intergovernmental environmental agreements. This treaty was negotiated through the 1960s by the countries and non-governmental organizations concerned about the increasing loss and degradation of wetlands habitat for migratory water-birds.
It was adopted in the Iranian city of Ramsar in 1971 and came into the force in 1975. Since 1997, the Ramsar Secretariat has provided outreach materials to help raise awareness about the importance and value of wetlands. Various themes focused on sustainable livelihood, agriculture, tourism, forest, biodiversity, climate change, water resources management, aquatic ecosystem etc. has been forwarded since 1997 to mark the world wetlands day. 2293 sites have been listed on Ramsar list comprising 169 contracting parties. Nepal became the signatory party on 17 April 1988.
Nepal, signatory party of the Ramsar treaty has listed 10 wetlands in Ramsar list. Beeshazari and associated lakes, Ghodaghodi lake, Gokyo and associated lakes, Gosaikunda and associated lake, Jagadishpur reservoir, Koshi Tappu, Lake cluster of Pokhara, Mai Pokhari, Phoksundo lake and Rara lake are the wetlands listed on Ramsar sites. Nepal, rich in water resources justify the rationale of conserving wetlands.
Wetlands are the most diverse and productive ecosystem, includes all lakes and rivers, underground aquifers, swamps and marshes, wet grasslands, peatlands, oases, estuaries, deltas and tidal flats, mangroves and other coastal areas, coral reefs, and all human-made sites such as fish ponds, rice paddies, reservoirs and salt pans. They provide essential services and supply. There is the close nexus between wetlands and people from the ancient civilization. We are extracting multiple benefit from the wetlands.
Wetlands has ecological importance nevertheless economic benefit. It has been playing crucial role in blooming tourism. Thousands of people are depending on the lakes of Pokhara for the income from tourism and fishing. Economic valuation has shown that Phewa lakes provides good and services worth more than USD 279,000 per year; and in Rupa lake by over 600 households earns more than USD 56,000 per year from fishing. Rara, the largest and pristine lake is attracting tremendous counts of tourists every year and it is sure that it will transform the status of Karnali towards prosperity.
Gokyo, Phoksundo and Gosaikunda are adventure destination for the nature lover and hiking, rising as the new destination in recent days. Tharu community celebrate Agan Panchami by taking holy bath in Ghoda Ghodi lake. Many pilgrims visit Gosaikunda and Mai Pokhari which has religious association with Hindu and Buddhist. The deprived community of this zone are flourishing their economic activities via tourism and hospitality and lifting their living standard.
Jagadishpur reservoir, supplies water to irrigate 6,200 ha of agricultural land and few smaller associated lakes are serving as buffer zone for the bird movement. Beeshazari and associated lakes, Ghodaghodi lake and Koshi Tappu are rich in biodiversity, habitat for endangered species, aquatic ecosystem and hub for bird watching including Jagadispur reservoir. Gosaikunda lake is contributing for Trishuli tributary. Wetlands are water bodies providing abundance benefit, fresh water supply, hydroelectricity generation, irrigation, boating, rafting etc. The abundance amount of ecological and economic benefit from the wetlands hits to think for the sustainable use. Over whelming population and its pressure on wetlands is driving for pollution. Wetland in the urban area are transforming to disposing sites, losing their ecological diversity and natural virginity. Wetlands are not merely associated with ecology and economy also has deep rooted linkage with social and cultural diversity.
Groundwater aquifers, ponds and rivers are the main source of drinking water. Wetlands filters the water that seeps into aquifers, helping to replenish this into important water source. Wetlands acts as giant sponge that absorbs flood water. Rivers, ponds, lakes and marshes soak up and store heavy rainfall and eventually reduces flood risk. Wetlands radiates moist air and naturally cools the air in the surrounding; a relief both in tropical cities and extremely dry climates. Urban wetlands also help to treat sewage from households. The silt-rich soil and abundant plants in the wetlands function as water filters which absorb some harmful toxins, agricultural pesticides and industrial waste. Green spaces in the cities, wetlands offer residents a space for recreation and access to diversity of plant and animal life; reduces stress and improves our health study claims.
Invasion of alien species, eutrophication in aquatic ecosystem and encroachment are the major threats degrading the quality of wetlands. Wetlands are the main source to extract lifesaving resources but unfortunately people are transforming into disposing site. Restoration of degraded wetlands through awareness, cleaning campaign and penalizing for the waste disposal is the way forward.
(Writers holds MSC Environmental Science degree from TU)