Blockade: Political Blunder or Lesson for Nepal
May 10th, 2018
A+
A-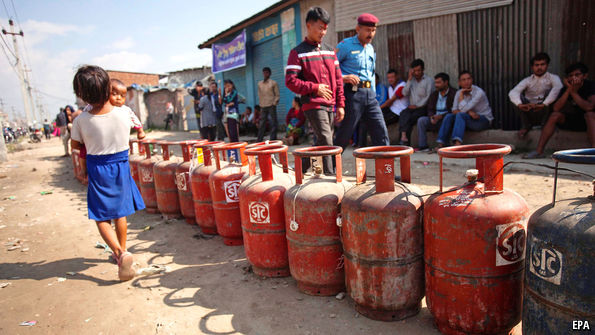 As Indian Prime Minister Modi's visit to Nepal is nearing something swirled into my mind. The unofficial two months long blockade in Sep-Oct-2015, done by Indian government in the name of Madhesi People's movement becomes afresh in the mind of every Nepali. This blockade disheartened almost all the Nepali. It had disrupted the rhythm of Nepali life. The hardships of hours long queuing for few liters of fuel for vehicles and the gas cylinders for cooking, is still unforgettable. No one is to be blamed for this. It is our own inefficiency and meager diplomatic channel that was not able to withstand and address the crisis.
The fury of blockade is somewhere stagnant in my unconscious mind as well. I could only show my anger but do nothing since we depend on India for everything. Demonstrations against India (especially Modi's Government) were staged throughout Nepal with Patriotic sentiment. Our then and now Prime Minister K.P Sharma Oli insisted on visiting India after the end of deadlock from India and he was applauded for taking the stand. Every Nepali was emotional and ready to undergo any difficult situation to tackle the situation.
Everyone was seen gossiping about nationalism but I am still confused about what type of nationalism we were talking about. Was it like Ernest Hemingway's Café Cova type or Fidel Castro's self-reliant nationalism? Or, did it have its own Nepali flavor? If we are true in our heart why did not we learn lesson from our bizarre past? Whether Modi Jee confesses it or not, blockade to Nepal in his prime-minister-ship was the political blunder and our misfortune, we did not learn any lesson from it. We are to be self sufficient, self reliant, and revise our sense of lacking of resourcefulness for Mohammad Mahathir's change in our nation. We blame for others and it is nothing than our inferiority complex. We can do a lot more. Instead of blaming others we need to focus on gaining strength in ourselves.
Revulsion should not be our way onward. Correcting our errands from the past our focal point is to maintain the balanced relation with India. Our fortitude is what we are. If this visit is just for formality we have nothing to say but if it is to begin the new relationship we should cash this time again in our favor. Once again K.P Sharma Oli has the opportunity to heighten Nepali sovereignty.
We cannot end our relation with India even if we desire. We have infinite relation with it from time immemorial. Our similarities in culture and the family ties are our unavoidable properties.  Prosperity is possible with the acceptance of each other's existence. We are ready to forget what happened yesterday for our prosperous future. Now, we are eagerly waiting to welcome Indian Prime Minister once again with brotherhood.
We are expectant to have a new beginning with new dimension. Modesty is our way but what we dislike is misjudgments. We hopefully expect Prometheus' fire instead of the Pandora's Box from India. Let this visit may herald a sunny dawn ending the gloomy yesterday in the relation formation and development of both nations.