Stage into fire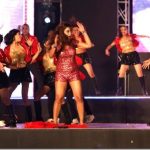 The Concert "Amarpanchhi" was held successfully Yesterday at Tudhikhel, Kathmandu. It was organized by the Nepal Army Wives Association (NAWA) .

The program was dedicated for charity to earthquake victims. The collected amount from this event will support the reconstruction of Dharahara and Government schools. Nepali and Bollywood actress rocked the city with very excellent Performances. Sonakshi Sinha and Malaika Arora Khan from Bollywood set the stage into fire.

This was Sonakshi's first visit to Nepal as see had mentioned in her Twitter. Nepali actors Indira Joshi , Reecha Sharma , Nisha Adhikari , Keki Adhikari ,Sushma Karki , Priyanka Karki , Rekha thapa and sahana Bajracharya also gave their awesome performances. This type of event happened for the first time in the nation. Thousands of people supported the program by dancing to the tune of the celebrities. Every Nepali enjoyed the event and it sent out the strong message that we are rising from the pain of Earthquake.
About The Author