Valley Mayors Commit to Clean Valley Air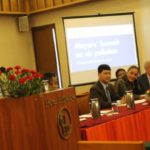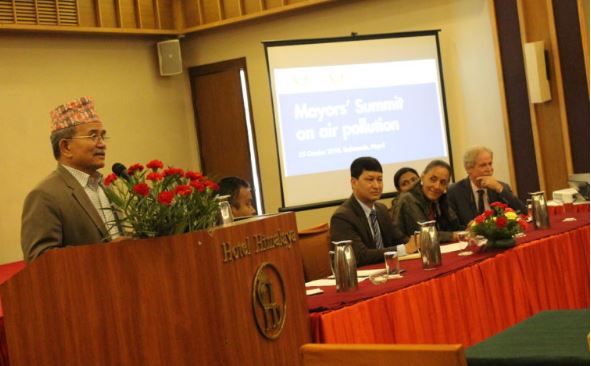 As winter sets in, air pollution in Kathmandu Valley is re-emerging as the biggest environmental challenge it faces, presenting a daily struggle for its citizens.

Elected authorities of the local government are under intense pressure to address this complex problem. Air pollution in the valley can be significantly reduced with coordinated action based on scientific evidence.

To facilitate such action, Clean Energy Nepal (CEN) and the International Centre for Integrated Mountain Development (ICIMOD), in collaboration with Kathmandu Metropolitan City and Lalitpur Metropolitan City, hosted a Mayors' Summit on Air Pollution on 25 October 2018.

The two-hour event included experts' briefings on the current scientific understanding of air pollution, on the possible solutions that municipalities can implement, and on the regulatory framework within which the municipalities can work.

Speaking at the program, Chiri Babu Maharjan, Mayor of Lalitpur Metropolitan City providing an overview of the program and expressed his keen desire on initiating exemplary actions in the Metropolitan City. "Air Pollution is of everyone's concern and any effort from a single municipality cannot clean air for valley dwellers", he said.

Dr. David Molden, Director General of the International Centre for Mountain Development expressed the need to working together to fight against air pollution.

Dr. Arnico Pandey, Regional Program Manager, ICIMOD sensitized the representatives of the local government with scientific and current scenario of Air Pollution in Kathmandu Valley. He emphasized the need of data based decision in policy making and the role of local authorities.

One of the major highlight of the program was when Her Excellency Melba Pria, the Ambassador of Mexico, shared with participants relevant experiences in Mexico City. She said, "Mexico City is geographically very similar to the Kathmandu Valley in many ways. Twenty years ago it had the worst air quality in the world, but has since made remarkable improvements". She shared how this was achieved, providing inspiration for hope in Kathmandu.

Bhusan Tuladhar provided an overview of easy solutions that the municipalities can implement to address environmental problems in Kathmandu Valley. The mayors agreed to move ahead in collaboration with each other to solve the crisis the citizens of Kathmandu are facing.

The Director General of Department of Environment Jhalak Ram Adhikary expressed that coordination amongst all three tiers of the Government is a must to overcome the problems we are facing today. He emphasized on the need of exemplary initiation from local level and most importantly the behavioral changes. He said, "Constitution has provided us enough to bring necessary changes for better environment and the existing policy is not deficient, so it is up to us to direct our actions accordingly". "A small proportion of budget allocated for infrastructural development can be of immense aid in environmental management", he added.

The representatives of the Kathmandu valley municipalities have committed to work together in coordination with central and provincial governments for clean air and related issues.

As the next step, the recently formed Integrated Municipal Level Coordination Council with representation from all 18 municipalities is to work together for air quality management in the Kathmandu Valley.

The mayors have pledged to initiate dialogue around seven priority points, and to further develop them into an action-oriented Declaration for Clean Air upon which all municipalities can act upon.

A draft declaration was handed over to the Mayor of KMC with following points to be discussed at the Valley Municipal Forum :

1) Prioritize waste management, prohibit waste dumping in public spaces, ban open waste and agricultural waste burning, and take stringent action when required.

2)Set definite timelines for completion of different construction activities (road, sewage management, drinking water) ongoing in the city and monitor them effectively.

3)Make the city cycle and pedestrian friendly and promote greenery, recognizing the benefits on human health.

4) Make public transportation effective, prohibit polluting vehicles, and facilitate proper traffic management to lower vehicular emission and work towards promoting sustainable urban mobility in Kathmandu Valley.

5)Effectively monitor and implement National Air Quality Standards to reduce emissions from industries.

6)  Achieve the above mentioned in accordance with the expectations of the townspeople, and deliver quality and result oriented outcomes. Mayors, Deputy Mayors, and the Chiefs of the Environment Divisions of the 18 Municipalities in Kathmandu Valley, representatives from central governmental bodies, key stakeholders, and media participated in the programme.
About The Author