Two gems of places for birds in Kathmandu Valley
Nov 27th, 2020
A+
A-
Kathmandu is one of the most beautiful valleys in the Country with geographical and ecological aspects. More than 534 species of birds used to be found in Kathmandu but the habitat of birds rapidly decreased since last two decades and loses many of avian fauna from the valley. Now only two places Nagdaha and Manohara remains as the birding destination within the Kathmandu Valley. Both are considered as GEMS providing favorable environment especially for migratory birds.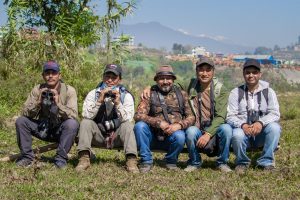 Nagdaha:
Nagdaha is one of the biggest natural lakes in Kathmandu valley situated in Lalitpur. It is spread up to 5 hector. The natural beauty of this place is still not derailed as much as Taudaha which is losing its natural status because of massive construction of artificial beautification.  It holds significant ecological importance and good habitat for resident and migratory birds and other wildlife.
 Mythical and cultural aspect of Nagdaha
It is believed that female snake of Nagdaha and male snake Taudaha used to stay together and visit Panauti in every rainy season. There is a legend that these mystic godly creatures in the form of half man and half snake helped to rain. Hence, local people built temple of Naga and began worshiping on every Nagpanchami.
Another myth about the lake is that the Lord Shiva used to reside in that lake but Goddess Bajrabarahi did not approve of it. She feared that people might worship him more and not her. She wanted Shiva to move somewhere else and collected snoring pigs and polluted the lake to disturb his peace. Shiva could not bear the disturbance and he moved away to Shankhamul which pleased Bajrabarahi immensely.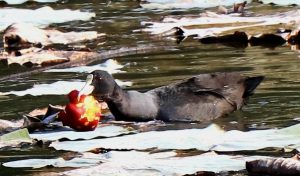 Ecological and ornithological importance 
Nagdaha has ecological enrichment for aquatic wildlife. Many species of native fishes like barbs and snakeheads are abundant. This is also a habitat of several species of birds and is a unique place for bird watching. Black Kite, Black Drongo, Baya Weaver, Indian Pond Heron, Cattle Egret, Oriental Magpie Robin, Common Myna, Jungle Myna, Spotted Owlet, Large Billed Crow, House Crow, Rose Ring Parakeet, Alexandrian Parakeet, Common Kingfisher, White Throated Kingfisher, Red Vented Bulbul, Swallows and doves, more than 50 species are the resident Birds. In summer and winter several migratory species visit in Nagdaha, some of the summer visitors are cuckoos, like Eurasian cuckoo, Asian Koel, White Breasted Water hen, Common Moorhen, lesser whistling Duck, Garganey, Greater Painted Snipe and Jacobi cuckoo. Similarly winter visitors are Raptors, Mallard, Gadwall, Northern Shoveler, Northern Pintail, Ferruginous Pochard, Common Pochard, Ruddy Shell Duck and Great Cormorant.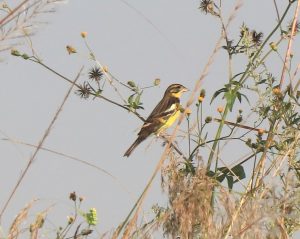 These kinds of natural elements offer the very important ecological and ornithological contents for visitors and researchers.
There are regular and irregular visits of migratory species in Nagdaha.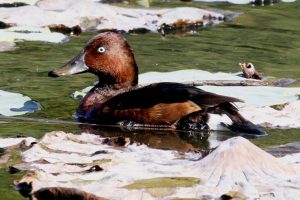 Regular visitors:  except common species of Nagdaha, some regular visitor of summer season are Cuckoos, Orioles, moorhen, and water hen. Common coot, redstart,  wagtails and Great Cormorant are regular winter visitors.  Some time moorhen and water water stay for long time, common coot stay more than  six months
Irregular visitors
Except common coot most of the species Mallard (Feb.2010) gadwall, Pochard, Shoveler, winter irregularly visit in winter.  Garganey was on (20th June 2020) in Nagdaha. Similarly, ferruginous Pochard and northern Shoveler (24th Nov.2013 and Nov. 2020) lesser whistling duck (2014 may 4), little grebe (17th March 2019), are rare irregular visitors in Nagdaha.
Common Pochard male 31st Dec, 2019 and female 20th Nov 2020 were visited.
In May and June 2020 gadwall visited unexpectedly. Most of the species visited in single numbers and some of the species visited in couple of numbers.
Environmental Challenge (crisis) of the surrounding:
The local people use the lake (Nagdaha) for various purposes such as building huts, plotting land, washing clothes, bathing, and religious purposes, fishing, irrigation, recreational activities, tourism, and academic activities, Invading Lake and so on. Extensive exploitation of this lake has influenced in shrinking the size of the lake. It has directly affected the natural habitat of aquatic and terrestrial elements. Therefore, the major challenge is to sustain ecological aspect and environment in Nagdaha.
To keep the lake ecologically suitable for birds and animal, local people must be aware about the importance of lake and its conservation of its natural environment.
The importance of Manohara River in prospective of bird's ecology
During the pandemic of Covid-19, 2020, the Manohara River caught attention of many ornithologists, photographers and bird watchers because they uncovered that the place sheltered different passes migrant and rare species of birds. Recently recorded the some of the very magnificent birds after a long gap of about 30- 72 years.
A river appeared from Manichud and Shakharapur area as first Salindai and kageshwari later on became Manohara. Manohara means hypnotic character of angel, as half human half bird that dance and attract the heart of beings. Justifying its name, the river flows from the eastern part of Kathmandu valley attracting many verities of ducks, waders, raptors, terrestrial and water, locals and migratory birds.
It is a small patch of land but hold enough charm and beauty to attract various kinds of birds.  There is proper combination of forest, harvesting field agricultural field and wetland. Spread up to 7 hectares, Manohara attracts various endangered, migratory, and wetland birds. The record of two seasons (Last Summer and Autumn Season) suggest red necked falcon, pacific golden plover, Kentish plover, Eurasian Curlew, Jack snipe, Baillon's crake, Pied harrier, Amur falcon, eastern imperial eagle sheltered on the bank of Manohara .  It is becoming as a good to place for bird lovers and also termed as "Mini Koshi Tappu" in Kathmandu valley. During big bird year 2020 weekend more than 56 species were sighted in that small and cozy wetland area.
The bank of Manohara and nearby green patches carries great ecological value they shelter very important migratory or passer migrant birds even for short term stay. Despite haphazard urbanization, the habitat of this small area has miraculously been healthy enough to attract various rare and endangered birds in Kathmandu valley. Among many other species, Manohara has been home to critically endangered the species Yellow-breasted Bunting, a species that is declining rapidly across the globe.  The local government, stakeholders, birders, researchers must come up with concrete plans to conserve their habitat in proper and effective way. Bird Conservation Nepal, the oldest and authorized bird conservation organization in Nepal and their members have been advocating with local government and people to play active role in conservation of that valuable site.
(Author is senior ornithologist and Patron Member of Bird Conservation Nepal)