Engaging civil society and media to work together on energy transitions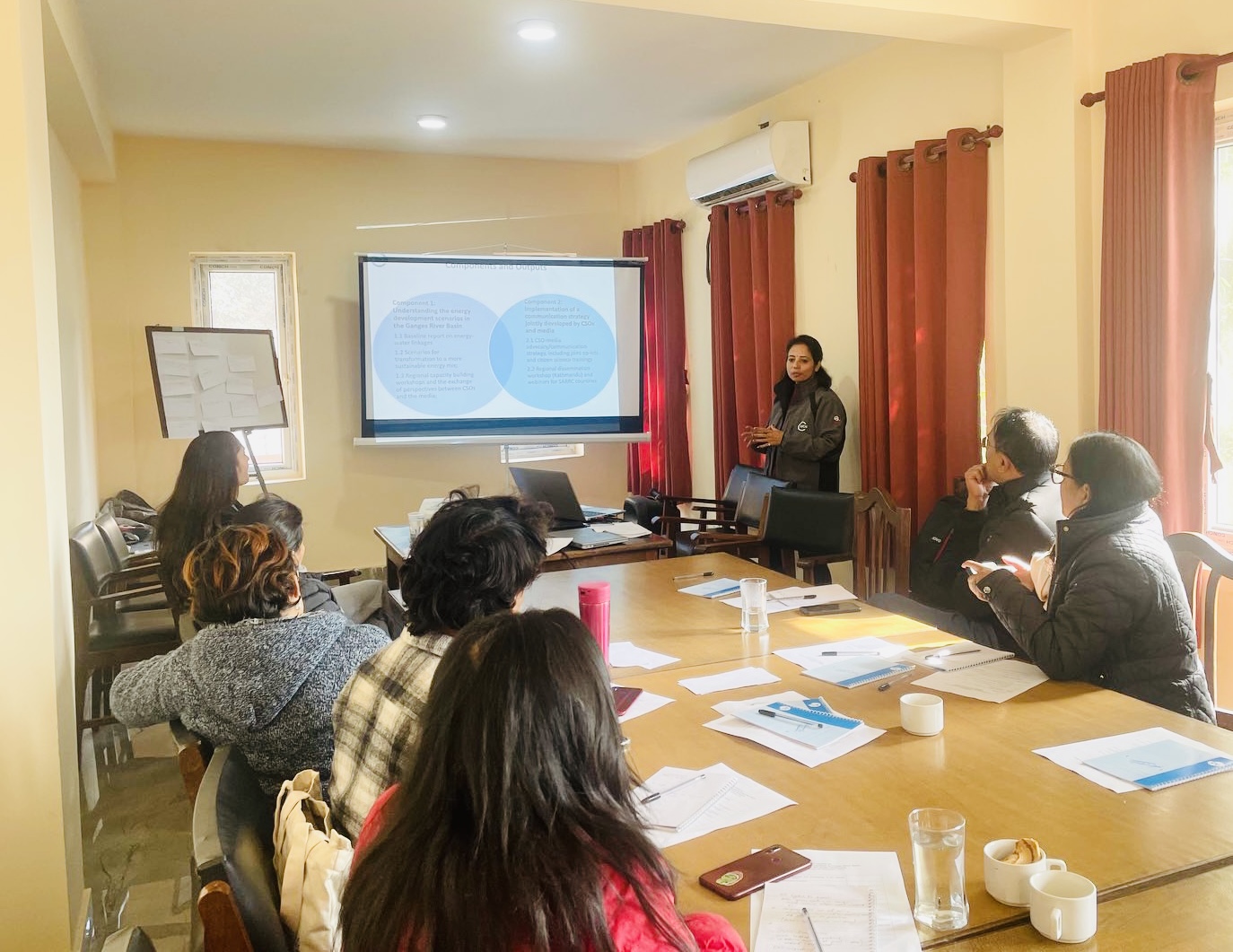 Various civil society organizations (CSOs) and representatives of mainstream media vowed to develop a partnership to promote sustainable energy transitions in Ganges River Basin and create awareness on the need to focus on alternative sources of energy in the region.
CSOs and Media gathered at a workshop organized today by Nepal Forum of Environmental Journalists (NEFEJ) and International Union for Conservation of Nature (IUCN) to discuss the possibilities of developing a partnership to share necessary information and research to produce communication products for wider audience.
Sustainable Energy Transitions in Ganges River Basin: Building CSO-Media Partnership
- provided a platform to the CSOs and media representatives to develop a common understanding of baseline study prepared by the IUCN. The CSOs and media also looked into the possibilities of working together to promote sustainable energy pathways that are inclusive and ecosystem-friendly.
Senior Program Officer of IUCN Nepal Anu Adhikari shed light on the baseline report and presented key messages for Nepal and the region stating that transition to new renewables is the way forward for Ganges basin countries.Saying that supply shocks make energy sector and countries vulnerable, like recent hike in gas prices,she stressed on the urgent need for policy changes for transition to new renewables in the basin.
The baseline study also focuses on how uncertainties over future water availability will make hydropower projects unreliable as it is seasonally dependent and how the impacts of climate change could make the hydropower projects vulnerable to natural disasters.
Highlighting Nepal's energy scenario, the baseline report suggests to reduce over-dependence on hydropower and focus on new renewables, and analyze the impact of hydropower on the local community and the biodiversity. "Nepal needs to divert its focus and start engaging in renewable energy development, as it has ample alternative energy opportunities," the report mentions.
On the occasion,Shamsher Ali, Program Manager of ActionAid Bangladesh, presented virtually the energy landscape of Bangladesh and stressed on the need for regional cooperation to meet growing energy demands of his country as Nepal has high potential of alternative energy sources.
At the program, journalists Kosmos Biswokarma and Shristi Kaflepresented their key findings from field visits to Rasuwa and Sindhupalchowk in which they focused on how the increasing number of hydropower projects in Trishuli and Bhotekoshi Rivers have impacted the local environment and river ecology.
At the workshop, the CSOs and media agreed that they need to build their capacities and strengthen their partnership to sensitize policy makers and other stakeholders in developing less hydropower scenario. They also agreed to enhance cooperation at the regional level to develop a common understanding and reporting on the need to promote alternative sources of energy in the countries that could benefit from the Ganges River Basin.
Representatives from Indigenous Women's 
Legal Awareness Group, Women Network
 for 
Energy
 and Environment, Clean Energy Nepal, Climates Nepal,youth activists and environmental journalists working in various Nepali media participated in the workshop.