Empowering local government to respond to Climate Crisis
A+
A-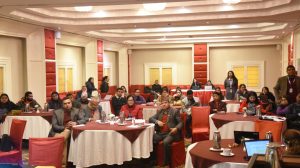 UNESCO in collaboration with Nepal Forum of Science Journalists (NFSJ) organized a workshop for newly elected members of the Parliament, authorities from the different municipalities in the Kathmandu valley and media on Wednesday. The workshop is the fifth installment of UNESCO-NFSJ communicating science dialogue series. Participants explored the information and knowledge gaps that exist in the media to ensure public engagement in climate crisis response. The workshop aimed to educate and empower local leaders and office holders with the knowledge and skills needed to effectively address the impacts of climate change.
The workshop included presentations from experts such as Ms Deepa Oli, GESI focal point from the Ministry of Forest and Environment; Dr Nani Raut , Assistant Professor from Kathmandu University and communication and community media expert,Raghu Mainali, who delivered presentations on National and International Mechanisms to respond to the climate crisis, understanding the crisis through the climate change and disaster lens, and media experience in communicating climate crisis.
The workshop included presentations and interactive sessions for the participants, allowing them to share their experiences and ideas for addressing the climate crisis at the local and National levels. The workshop provided a platform for local government officials to obtain knowledge to effectively understand, and address the impacts of the climate crisis in their respective areas and raise these issues in the presence of members of the parliament.
Nirjana Sharma, Programme Coordinator, UNESCO Nepal  shed light on the communication gap needs to be identified to disseminate the information about climate change.  She added, " It is high time we have political commitment to address climate change."
On the Ocassion, Ganesh Shah, Former Minister of Environment, Science and Technology  shared, "Climate change is not a problem of the plain only or the mountain. The effects will be everywhere, and everyone must be concerned."
Shakti bahadur Basnet, Member of parliament, Former Minister of Forest and Environment  highlighted that It is high time we capacitate institutions and individuals to get updated about the ever evolving terminology used in climate discourse.  Basnet further added, "We should also be consistent with use of terminology like climate emergency and climate crisis.. For Nepal, responding climate crisis through adaptation is definitely important but we all need to enhance our capacity to move towards mitigations approaches."
At the progam, Rajan Pokhrel, President, NFSJ, said that effective communication is the need of the hour to educate and mobilize audiences to confront the climate crisis. Media always plays a pivotal role in helping the general public to understand climate science.