Climate Change in the Common Program of Government
A+
A-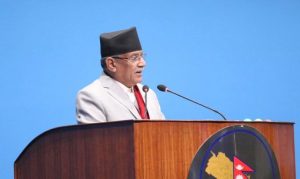 The government has launched a common program to develop green economy to protect the environment and forest environment, climate adaptation and disaster management.
. For that, the Everest dialogue on 'climate change'  has been prepared.
Prime Minister Pushpa Kamal Dahal expressed his commitment while taking the vote of confidence in the Parliament on Tuesday. It has been mentioned that he will initiate the creation of a network of concerned countries to internationalize the issue of climate change, to raise awareness about the risks posed by the climate crisis in underdeveloped and mountainous countries. For that, the Everest dialogue on 'climate change, the future of the snowman race' has been prepared.
It is the government's priority to provide immediate rescue and proper relief during calamities such as snowfall, frost, flood, landslide, flood, fire and lightning and to carry out the rehabilitation of the affected people as soon as possible. By strengthening the disaster warning system, the government has put forward a policy to protect people from loss of property and to use the forest area so that there is no adverse impact on the environment while building industries, factories and development infrastructure.