Get Informed: Inside the NDC Action Plan's Key Points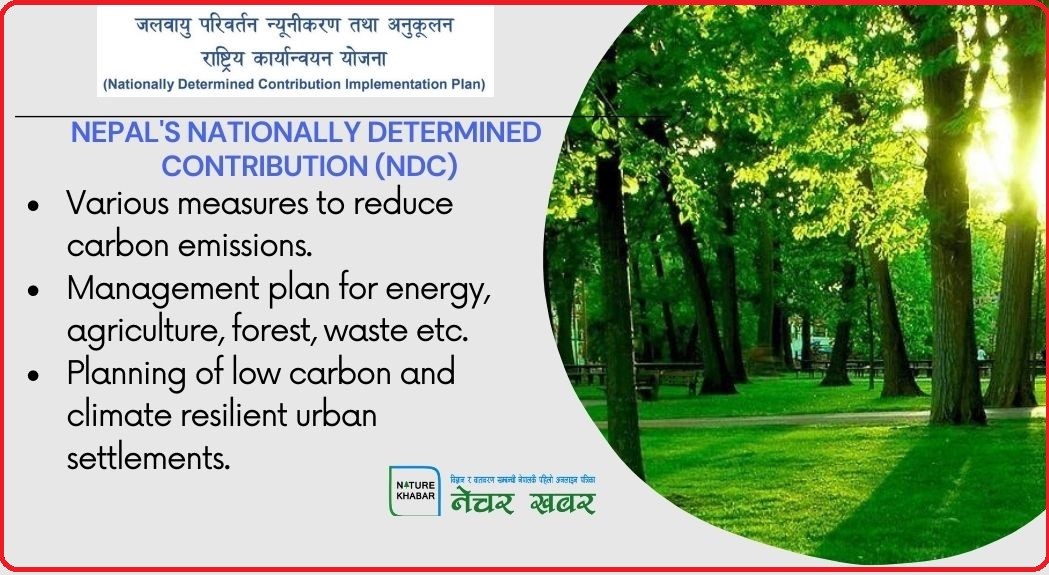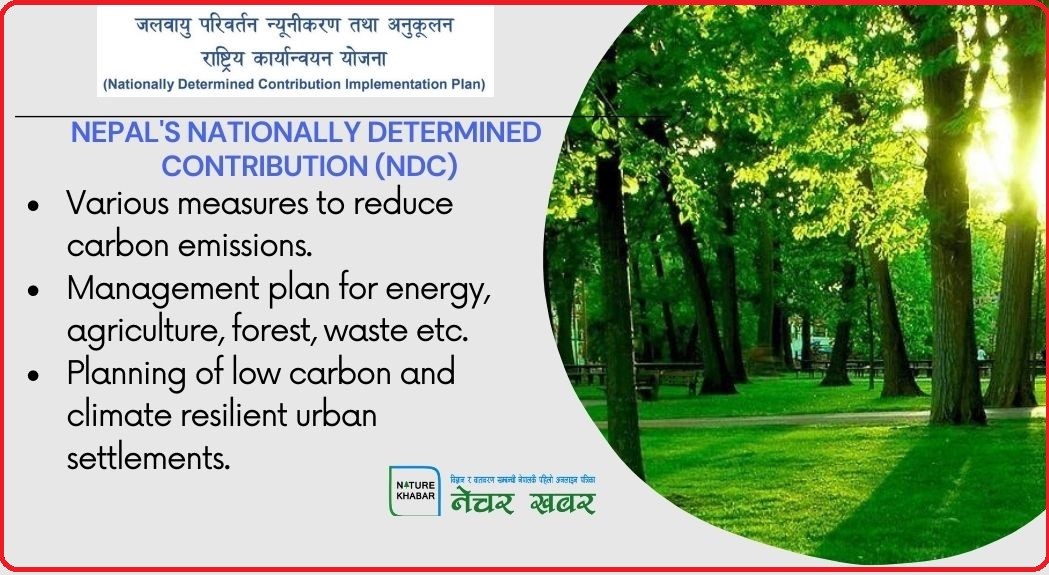 Kathmandu - Climate change is a global problem. Its effect may be less in some countries, more in others, but it has been affected everywhere. Therefore, climate adaptation plans and work are being done in every country. Nepal is also working on various plans.

Nepal had made policies, plans and structures to spend 80 percent of the budget allocated in the field of climate change at the local level. Similarly, the second National Determined Contribution (NDC) has been prepared and passed as an initiative for climate change response. The action plan estimated to cost around 43.53 billion rupees to implement the NDC by 2030 was approved by the Council of Ministers meeting last Thursday.

The commitments made by Nepal in the NDC are important. By the year 2025, creating suitable institutional structures at various levels has also become a policy priority of Nepal. This is the good side. There are many other such schemes in Nepal.

Why is National Determined Contribution (NDC) prepared?
Nepal is a party to the Paris Agreement on climate change. According to the Paris Agreement, the meeting held on 8 December 2020 of the Government of Nepal Council of Ministers approved the second National Determined Contribution (NDC) of Nepal. According to the plan of the NDC, Nepal should implement the target and plan. Therefore, the NDC is prepared.

For the implementation of the sectoral and sub-sectoral goals in the NDC, the Second National Determined Contribution Implementation Plan has been prepared in conjunction with the Ministry of Forestry and Environment with the involvement of related ministries and other associations and experts.

What was done before the NDC was passed?
Ministry of Finance, National Planning Commission, Ministry of Water Supply, Ministry of Energy, Water Resources and Irrigation, Ministry of Agriculture and Livestock Development, Ministry of Federal Affairs and General Administration, Ministry of Women, Children and Senior Citizens and Ministry of Physical Infrastructure and Transport as well as other stakeholders with discussions and opinions It is ready.
The meeting held on July 4, 2022 of the Ministry of Forests and Environment of the Government of Nepal submitted a proposal to the Government of Nepal (Council of Ministers) for the approval of the implementation plan. After that, the plan was approved after discussion in the committee of the Council of Ministers.

On October 31, 2022, the plan was presented and approved at the meeting of the National Council for Environment Protection and Climate Change Management chaired by the then Prime Minister. Approval was given by the Prime Minister and the Minister of Forests and Environment on 11 Baisakh 2080 to submit the proposal to the Government of Nepal (Council of Ministers).

Then on Jesth 29, the Ministry of Finance agreed to submit this plan to the Council of Ministers for approval with a positive opinion. On Aasar 10, approval was given by the Minister of Forests and Environment to submit a proposal to the Council of Ministers for the approval of the NDC implementation plan. On Aasar 12, 2080, a decision was made by the Council of Ministers to 'discuss and submit to the Council of Ministers Economic and Infrastructure Committee'. And finally last Thursday, the Council of Ministers approved the action plan estimated to cost 43.53 billion rupees.

What is included in the action plan?
For the effective implementation of the various sectoral and sub-sectoral goals of the NDC, the plan includes action plans for energy, agriculture, forestry and other land use, waste, industrial processes and use of products, urban settlement and tourism, gender equality and social inclusion and governance.

The sectoral and sub-sectoral action plans include detailed details of proposed activities, monitoring, reporting and verification indicators, implementing agencies and cost estimates for achieving the target. The roles and responsibilities of the union, state and local governments, subject agencies and stakeholders as well as coordination and communication mechanisms have been clarified.

To ensure political ownership and high-level institutional commitment to the implementation of the NDC, a high-level climate change meeting led by the Minister of Forests and Environment and the Secretaries of the National Planning Commission, representatives of relevant agencies of the Federal Government, Chief Secretaries of all State Governments, local level representatives, the private sector and multi-stakeholders It is proposed to form a management committee.

Similarly, the total cost of implementing the NDC by the year 2030 is estimated at 43.53 billion rupees. This is equivalent to 33.04 billion US dollars. Naresh Sharma, Nepal contact person of National Determined Contribution (NDC), Under Secretary of the Ministry of Forests and Environment, says that the goals of Nepal's NDC are ambitious and the support of international agencies and development partners is needed to achieve these goals.

According to him, Nepal will prioritize grant-based international public finance for NDC implementation. He says, 'Nepal will arrange for the implementation of NDC from international as well as national public and private financial sources. The approval of the NDC implementation plan will clarify the roles and responsibilities of the relevant bodies and stakeholders, facilitate implementation and help in raising international climate finance.

000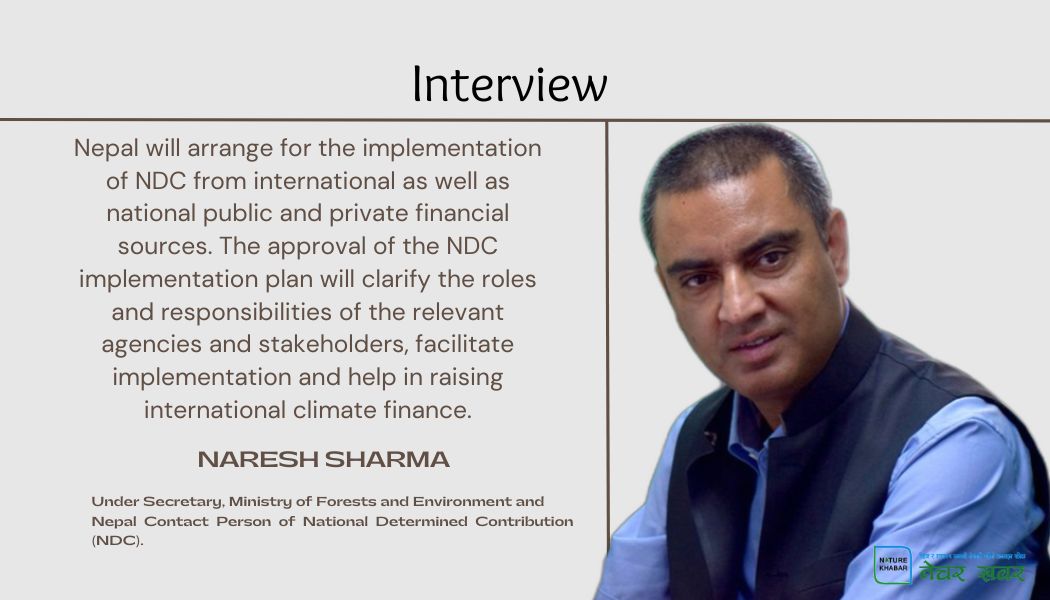 What role can Nationally Determined Contribution (NDC) play in reducing carbon emissions ?
It has proposed various measures to reduce carbon emissions. The main thing is the management of areas that emit more carbon, such as energy, agriculture, forestry, waste etc. For example, there is a plan to increase access to clean cooking solutions while ensuring clean and renewable energy production, reliable supply of energy. The concept of zero emission has been introduced in public and private vehicles.

In agriculture, the aim is to increase the organic content of the soil, and to promote improved cattle sheds. It plans to ensure sustainable and inclusive management of forests and ecosystems, prevention of deforestation and degradation of forests and ecosystems, prosperity of watersheds and wetlands, and fair and equitable benefits from forest management.

Similarly, it also includes a plan to establish waste water treatment plants and promote manure management. There is a plan to systematize industrial processes and make production and use environmentally friendly. It also includes adopting low emission technologies in brick and cement industries to reduce coal consumption and air pollution, establishing a mechanism to monitor emissions from large industries.

There is a plan to adopt the National Building Code in urban settlements and tourism, prepare integrated urban development plans, ensure low-carbon and climate-resilient urban settlements in all municipalities, revise urban environment management guidelines, promote low-carbon and climate-resilient cities. It aims to develop policy measures to decarbonize settlements, tourism and transport and implement a nature-based tourism management plan.

What is the role of the ministry, stakeholders and departments in implementing this action plan ?
It has been proposed to form a high-level climate change management committee under the coordination of the Minister of Forestry and Environment with the secretaries of the relevant ministries and the National Planning Commission, representatives of the relevant agencies of the federal government, chief secretaries of the provinces and members.

It will involve representatives from the local level, private sector and multi-stakeholders to ensure political ownership and high-level institutional commitment for its implementation. In order to fulfill the sectoral goals of this plan, the regional ministries will coordinate and implement the plan in close cooperation with the provincial and local governments. The private sector, development partners, academics and experts will play an important role in its implementation and their representatives will also be included in it.

The main role of the Ministry is to coordinate climate action at 3 levels of government, implement activities in the forest sector, build capacity in climate action and ensure timely monitoring and reporting. The main role of relevant ministries, government agencies and sub-national governments is to implement sectoral activities according to their jurisdiction.