Trading Tigers for Trophies: Nepal's Controversial Proposal
Nature Khabar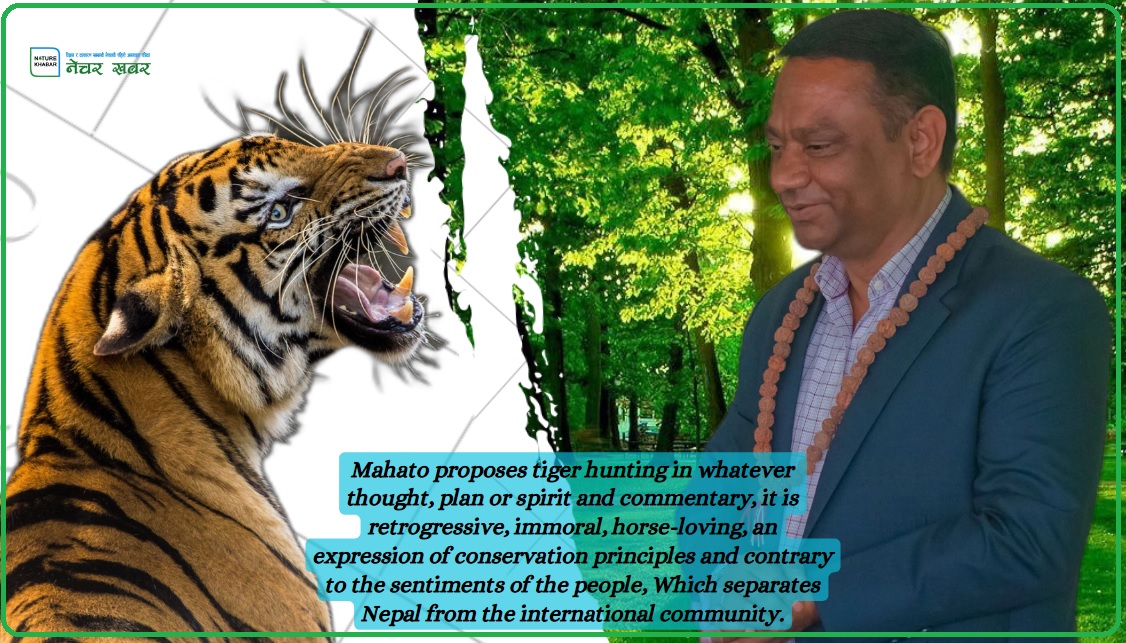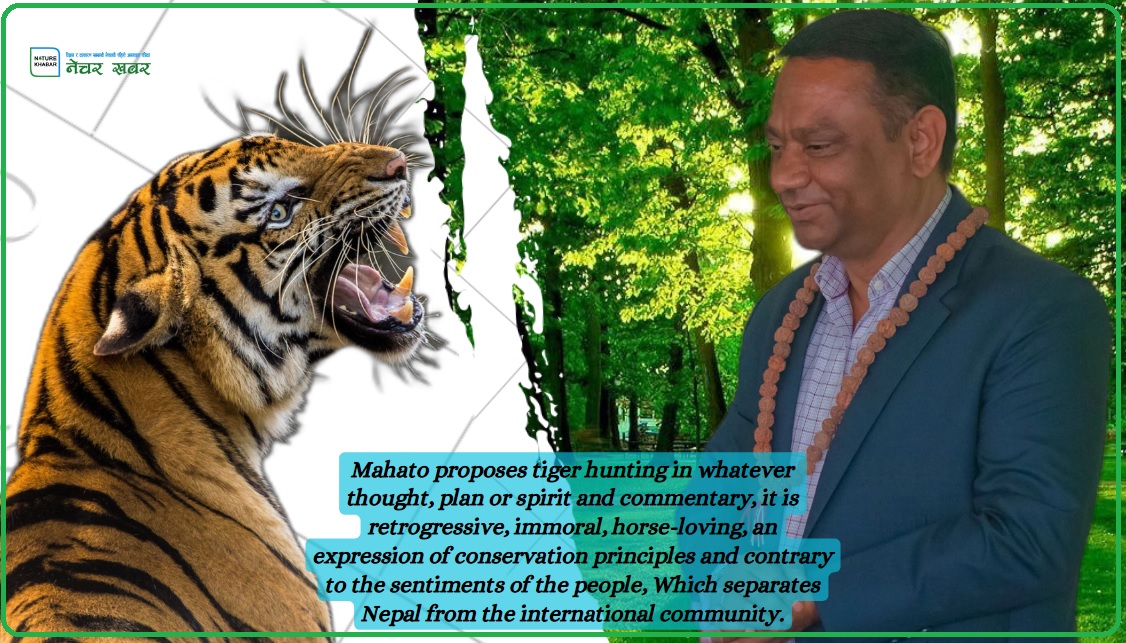 KATHMANDU - The roar of a tiger is not just a sound. It is a testament to the majesty and resilience of nature. But last week, after Forest and Environment Minister Birendra Mahato proposed to sell hunting licenses to rich foreigners for the highly endangered tiger, there is a threat of silencing this roar forever.

With less than 3500 tigers left in the wild, it cannot be justified in any way that every person hunts them instead of working towards their conservation. The statement that the minister will raise a lot of revenue in a short period of time cannot be considered scientific and wise in any point of view.

His arguments focused on controlling the tiger population and gaining economic benefits. It blows away the subtle and multifaceted aspect of global tiger conservation and Nepal's decades of hard work and success in it.

A decade ago, the number of tigers in Nepal was alarmingly low (121). But with the united efforts of the government, non-governmental organizations, citizens, local residents and stakeholders, it reached 355 by 2023. To achieve this success, the government and other concerned agencies and especially the communities living around the places where tigers are found have made sacrifices, dedications and huge investments. Therefore, the logic of reducing the number by hunting tigers will hurt the sentiments of the local residents. The proposal to hunt tigers has raised a big question about global cooperation and cooperation. This has raised various questions about the commitments made by Nepal earlier.

For example, let's look at our neighbor India. They have made the framework of tiger conservation environment, tourism and community centric. This is a matter of long-term mutual benefit for both wildlife and local people. Temporary revenue from hunting licenses pales in comparison to this benefit. Bhutan's success and efforts in community-based tourism are examples.
This is not just a debate about the number of tigers. Wildlife conservation creates employment. Such employment and income is long-term. Apart from the ecological importance of the tiger, many local residents also question the cultural beliefs of the tiger.

Income can be made by making full use of the digital age. Virtual wildlife tours and conservation can be earned through crowdfunding. Countries like Brazil and Indonesia have achieved significant success from this.

Moreover, when the minister is proposing tiger hunting, there is concern and interest of the international community. Ignoring the CITES Convention signed by Nepal will tarnish the nation's global status. This convention emphasizes the global commitment to conservation to prevent trade in endangered species. whose Nepal side is also a nation.

The essence of conservation is not only conservation but also respect and coexistence. In an era when global communities are rallying and agitating for holistic environmental causes, the proposal to poach Nepal's precious tigers is regressive.

Nepal has many golden opportunities that can be achieved by connecting with tigers. It welcomes global collaboration, tourism, and research to capitalize on conservation success. A roar of a tiger becomes a great sound of harmony, survival and hope for the world.

The tiger manages the ecological environment. Their presence gives a positive message of biodiversity and forest health.
Therefore, the long-term damage caused to Nepal's image by the hunting proposal will be irreparable. Therefore, it is important to develop the feeling that one should protect one's natural resources instead of objectifying them.

There are many examples to say that the minister's proposal is unethical. When the global debate on environmental and animal rights is going on, it will not be supported even on the international stage.
Therefore, in the midst of such controversial proposals and discussions, we should not forget the deep cultural and spiritual relationship between the Nepalese people and the tiger. They are honored in folklore, celebrated in festivals, and held in deep respect by tribal communities. In essence, the tiger's existence is also linked to Nepal's identity. The global image of Nepal should be maintained as a protector, not a hunter.

Moreover, discussions like tiger poaching by countries like Nepal encourage illegal activities. The commercialization of tigers indicates to hunters that there is a new demand and higher price for tiger hunting. Under the guise of licensed hunting, smuggling and poachers thrive. Therefore, even if Minister Mahato proposes tiger hunting in whatever thought, plan or spirit and commentary, it is retrogressive, immoral, horse-loving, an expression of conservation principles and contrary to the sentiments of the people, Which separates Nepal from the international community.