Regional Conference on Mountain Agriculture Kicks Off in Kathmandu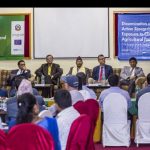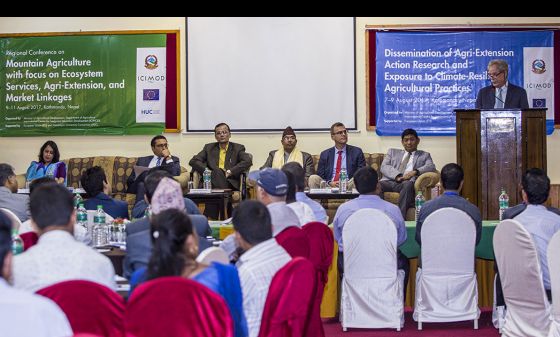 Organized by the Ministry of Agricultural Development (MoAD), Nepal and the International Centre for Integrated Mountain Development (ICIMOD), a three-day regional conference on mountain agriculture began at Hotel View Bhrikuti in Kathmandu, Nepal on 11 August 2017.
David Molden, Director General ICIMOD, called on a gathering of some 60 people—government officials, agri-extensionists, progressive farmers, and agriculture scientists—from the Hindu Kush Himalaya (HKH) to make the most of the opportunity the conference will provide to deliberate on the findings of the action research and pilot activities of the EU-funded Support to Rural Livelihoods and Climate Change in the Himalaya (Himalica) initiative to draw out lessons for uptake at the national and regional levels.
He said, "Some messages coming out of the Himalica experience are very clear. Improving farmers', especially women farmers', access to agri-extension services, recognizing the importance of indigenous honeybees and pollination services for enhancing crop productivity and food security, and promoting market linkages for mountain products are absolutely critical for improving agriculture-based livelihoods of poor and vulnerable mountain communities of the HKH."
Since 2013, the Himalica initiative of ICIMOD has carried out action research activities on bee pollination services in Chitral, Pakistan and Himachal Pradesh, India and randomized control trial (RCT) studies on improving agri-extension services in 10 mid-hill districts of Nepal. In addition, it has worked on developing climate-resilient value chains of mountain products such as vegetables and goat in Bhutan, community-based ecotourism in Bangladesh, ginger and bamboo in Myanmar, large cardamom and vegetables in Nepal, and yak and sea buckthorn in Pakistan.
Especially noteworthy is the three-year (2013–2016)  RCTstudies  that looked at what incentive structures and delivery mechanisms work best in the effective delivery of agri-extension services to farming households in mid-hill Nepal. A surprising finding of this study was that women farmers are quicker to adopt agricultural technologies than their male counterparts.
In his inaugural keynote speech, Minister of Agricultural Development Ram Krishna Yadav said, "The findings of the action research on agri-extension shall inform the agriculture extension policy and programmes of Nepal, which are a precondition to transforming agriculture in Nepal."
Newly appointed Vice Chair of the National Planning Commission of Nepal Swarnim Wagle acknowledged that Nepal's agriculture sector is still mired in classic problems such as young people leaving agriculture for good for jobs abroad due to lack of employment opportunities at home, overdependence on rain-fed agriculture, and lack of access to agri-extension services, technologies and agricultural inputs. He said "The future of agriculture lies in exploring new modes of production to take advantage of the economies of scale and commercial, even precision farming, that continuously internalizes new policy-relevant, evidence-based findings from the ground up."
Secretary at the Ministry of Agricultural Development Suroj Pokharel and Director at the Directorate of Agriculture Extension (DoAE) Niru Dahal Pandey also spoke at the inaugural session.
The regional conference will continue its deliberations on bee pollination services, agri extension services and market linkages, including promotion of climate-resilient livelihoods in the HKH, over the next two days.
About The Author