Flood Resilience Portal Launched in Kathmandu
A+
A-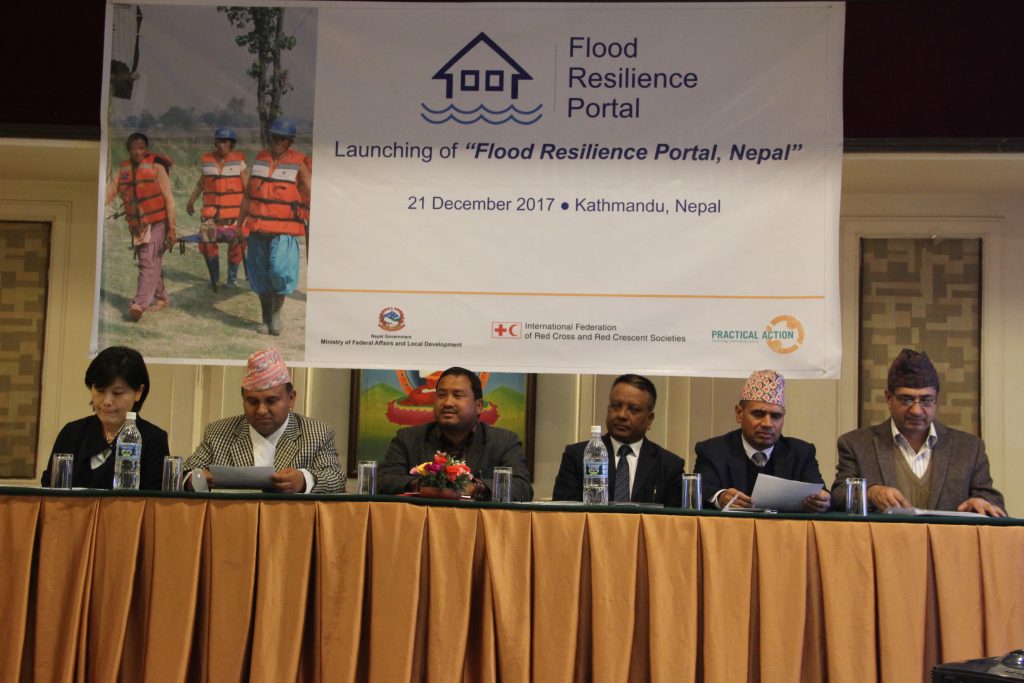 To support exchange of information and provide a consolidated information gateway to flood risk reduction and management, Ministry of Federal Affairs and Local Development (MOFALD) launched the Nepali version of Flood Resilience Portal on 21st December 2017, Friday in Kathmandu.
The programme is an innovative initiative teamed up of different civil society actors – Zurich Insurance, Wharton Risk Management, Decision Process Centre, International Institute for Applied System Analysis (IIASA), International Federation of Red Cross and Red Crescent Societies (IFRC) and Practical Action.
The portal is a space where practitioners can find the very best practice or solutions on building resilience to flooding. There exists a number of web based information, predominantly in the wider Disaster Risk Reduction (DRR) field available to practitioners. However, gap lies in the standardisation and management of the available knowledge.
Nepali Flood Resilience Portal (NFRP) is expected to enable practitioners access the most locally relevant flood risk reduction resources and inform resilience building activities with current good practices. State Minister Janak Raj Chaudhary, said, "Government of Nepal is committed to follow the SENDAI Framework and SDGs to mitigate disaster risks and reduce vulnerability in Nepal. However, government's effort alone is not enough and I call one and all including civil society organisations, development partners, private sectors and media to walk shoulder to shoulder to this effect. The innovative multi-ownership initiative of Zurich Global Flood Resilience Programme is a great support to create space for practitioners share their innovation and best practice."
Suresh Adhikari, Joint Secretary of MOFALD chaired the programme. Adhikari has addressed the programme saying, "Government has recently formulated Disaster Risk Reduction and Management Act which has deputed right, responsibilities and duties in terms of DRR to central, provincial and local governments. I call development partners, civil society organisations and private sectors including media to further scale up government's initiatives. I am also glad to share that MoFALD would like to take the ownership of the Nepali version of Flood Resilience Portal."
In the meantime, Head of IFRC, Nepal, Juja Kim also shared that the portal has demonstrated a strong alliance and partnership in commitment to disaster risk reduction and building resilience. During the event, Dinanath Bhandari, the coordinator of Practical Action made presentation on the portal and shed light on its dynamics.
The presentation incorporated portal's current features and opportunities to Nepali DRR actors and community to learn and share through this. Bhandari highlighted its significance in line with the MOFALD's plan to set up DRR and climate change information centre at each local government level across the country.
This will provide space to store and retrieve information. Krishna Bahadur Raut, Joint Secretary, Ministry of Home Affairs; Juja Kim, Head of IFRC Nepal Office; Dr. Rishi Ram Sharma, Director General, DHM; and Achyut Luitel, Director, Practical Action joined the event as guests. Civil society organisations, development organisations, government officials, donors, different stakeholders and media persons were among the participants of the programme.