International Space Apps Challenge in Kathmandu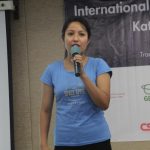 Renewable Energy for Rural Livelihood Project, joint program of Global Environment Facility and United Nations Development Program, under Alternative Energy Promotion Center, The International Centre for Integrated Mountain Development (ICIMOD), under the framework of SERVIR Hindu Kush-Himalaya, in collaboration with YoungInnovations brought International Space Apps Challenge (ISAC) 2016 in Kathmandu for the fourth time. The hackathon was supported by Robotics Association of Nepal (RAN), Women Leaders in Technology (WLIT) and CSIT Association of Nepal (CSITAN).

This year, more than 160 locations around the world organized International Space Apps Challenge 2016. It was a global celebration that called for mass collaboration to find innovative solutions to challenges that solved problems on earth and in space.

The International Space Apps Challenge is an international mass collaboration focused on space exploration that takes place over 48-hours in cities around the world. The event embraces collaborative problem solving with a goal of producing relevant open-source solutions to address global needs applicable to both life on Earth and life in space. This was the fifth time it was organized worldwide. This year there were over 28 challenges in six areas: Technology, Aeronautics, Space Station, Solar System, Earth and Journey to Mars. NASA is leading this global collaboration along with a number of government collaborators and around 200 local organizing teams across the globe.

This year, we had 63 participants, 53 male and 10 female participants in ISAC Kathmandu. We had participants that were beginners as well as experts in the field of technology. They collaborated together, helping each other into creative innovative solutions to these challenges. A total of 16 teams were formed and among them 10 worked on global challenges while 6 addressed the local challenges.

This year, 'Smart Nepali', 'API' and 'Visually (IM)paired' won the first, second and third prizes respectively. Teams 'Visually (IM)paired' and 'Kaikaas' have been nominated for Global Judging this year. 'First Attempt' won the People's Choice Award and has been nominated for International People's Choice Award as well.

Dr. Eklabya Sharma, Director Programme Operations at ICIMOD appreciated the program's attempt in encouraging young minds into finding creative solutions. Mr. Satish Gautam, National Program Manager, RERL, AEPC talked about his enthusiasm in collaborating with the teams to come up with innovative solutions to tackle problems in Nepal. Mr. Bibhusan Bista, CEO of YoungInnovations applauded this Public Private Partnership that made the event possible and encouraged participants to utilize this national and international exposure for a bigger and better purpose.

The event encouraged the participants to use their creativity in addressing global and local challenges that solved problems on Earth and in space. We are extremely delighted with the partnership and participation this year and hope to make the event an annual trend that is not just anticipated but highly celebrated.
About The Author