United Nations Country Office in Nepal Switches to Solar Power
A+
A-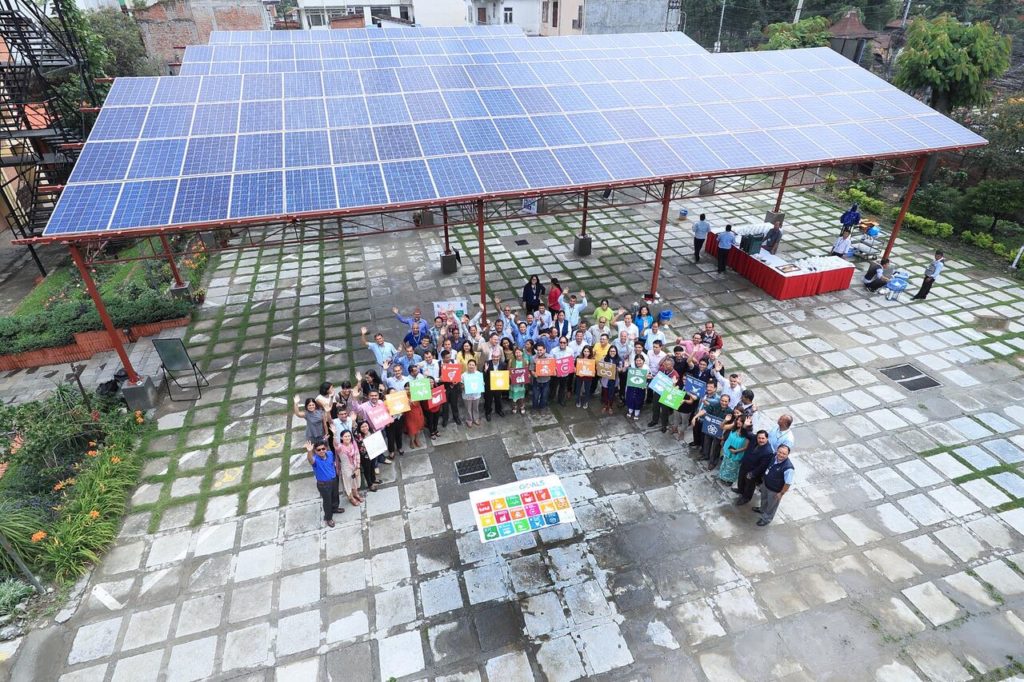 The United Nations in Nepal made headway towards a renewable energy future with the installation of the solar energy system in its country office in Kathmandu.
The new system is inaugurated on World Environment Day by the Acting Interim UN Resident Coordinator and Country Representative of WFP  Pippa Bradford, Director of Alternative Energy Promotion Centre Mr. Nawaraj Dhakal together with the heads of UN agency in Nepal.
The solar energy system comprised of 426 photovoltaic (PV) panels and a 204-kWh lithium storage battery, produce 196,000-kilowatt hour (kWh) annually. This is roughly equivalent to the consumption of electricity by 1410 Nepali citizen in a year.
Likewise, the solar system powers LED lights, computers, server room equipment, printers etc for up to 1.44 hours autonomously and will save $26,300 USD on electricity bills annually.
Speaking at the inauguration ceremony, the Acting  Interim UN Resident Coordinator Pippa Bradford said, "by switching to solar and encouraging staff to use energy more efficiently, the UN in Nepal is practicing what we preach. This is our commitment to sustainable energy, and we hope to inspire organizations and individuals to take action to achieve the Sustainable Development Goals (SDGs) and create a renewable energy future."
The solar energy project, conceptualized in 2016, is a joint initiative of four UN agencies: UNDP, WHO, FAO and UNICEF, residing within the UN House premises under the technical guidance of Green Energy Solutions team, Information Management & Technology, UNDP Denmark.
With the switch, UN House is expected to reduce CO2 emissions by 52 tons annually -equivalent to 86 motorcycles taken off the roads and 260 Nepali citizens' carbon footprint.
The Sustainable Development Goal identifies clean energy as an integral part of the global strategy to end poverty, protect the planet, and ensure prosperity for all. The collaboration between agencies and private sector to embark into one of the cleanest energy sources available, sets a good example for future joint action to reach the Sustainable Development Goals (SDGs) across organizations, sectors, and nations.