Delhi backs incentives for clean energy switch to combat pollution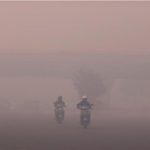 Commuters make their way through heavy smog in New Delhi, India, on October 31, 2016. Photo: Reuters/ Fil


Authorities in the Indian capital Delhi approved measures on Tuesday to encourage businesses to use clean energy as one of the world's worst polluted cities stepped up the fight against deadly air pollution.
The Delhi city government gave the go-ahead for financial incentives for restaurants switching to electric or gas tandoor ovens from coal, its food and supply minister Imran Hussain said on Twitter, without elaborating.
"Delhi government has taken several steps to tackle pollution," Chief Minister Arvind Kejriwal also tweeted.
The city cabinet also approved various incentives to industries switching to Piped Natural Gas, said Hussain, who is also Delhi's
environment 
minister, as the cheaper, safer and less polluting fuel is consumed across the domestic, commercial and industrial sectors.
A report by the World Health Organisation (WHO) in May said India was home to the world's 14 most polluted cities, with Delhi the sixth most polluted.
Air quality has worsened in New Delhi in recent years, prompting Prime Minister Narendra Modi's office to monitor measures to clean up the capital's air directly.
Illegal crop burning in farming states surrounding New Delhi, vehicle exhausts and swirling construction dust have contributed to what has become an annual crisis.
Modi's government opened two new expressways around the capital in May aimed at decongesting its streets and reducing pollution.
Globally about 7 million people die as a result of polluted air a year, the WHO said, with people in poor Asian and African countries at most risk.
Two years ago, Kejriwal's Aam Aadmi Party government restricted the use of private cars for two weeks, allowing them to be driven only on alternate days, going by their odd or even number plates.
Last November, India's top court upheld a ban on the use of petroleum coke, a cheaper and dirtier alternative to coal composed mainly of carbon, in and around New Delhi.
About The Author