Kiwi Fruit Farming: A Better Prospect of Earning in Nepal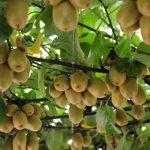 For a farmer, who has been doing a substantial farming and animal husbandry, concept of kiwi fruit farming (a Chinese Gooseberry) would be a new phenomenon in Nepal. This fruit is about to be known to the most of the Nepalese, but the prospects better earning are higher from Kiwi fruit farming. This fruit is cultivable from the elevation of 1000 to 2500 meters from the sea level. This fruit can be consumed as a fresh fruit, in the form of juice, jam, and wine. Among Soyou, Monty, Tomuri, Abbott, Hayward, and Bruno, Hayward kiwi fruit is popular among Nepalese farmers.

This fruit is very nutritious and different researches on the healthy benefit of kiwi fruit show that regular intake of a kiwi fruit keeps a person away from the diseases like diabetes, heart related diseases, Colon Health, Muscular Degeneration, obesity, and Asthma. Everyone can savor this fruit regardless of their age. This fruit is more beneficial to the pregnant women. Because of its rich nutritional values the price of kiwi fruit is higher than other fruits.

A farmer can plant 20 kiwi vines in a ropani land. South face areas with adequate irrigation facilities is suitable. Loamy soil is best preferred soil for kiwi fruit plantation. The kiwi vine matures after five years and yields 50-80 kg kiwi fruits every year, at least for the forty years, and a kg kiwi fruit can be sold in Rs. 400 to 800 depending on the quality and size of the fruit. In this sense, the farmer can earn almost forty to forty five thousand rupees from a kiwi vine in a year. The commercial kiwi fruit farming may raise the living standard of the farmer that is almost impossible for him with substantial farming and traditional animal husbandry.

Nothing is impossible for striving hands. If done commercially, it does not only benefit the farmers, but it can also be the benchmark for uplifting the nation's economy. Nepalese kiwi fruit can be exported in the international market since it is highly demanded. It can help creating the employment opportunity for the youths who wish going to the foreign strand in search of job. If given training, access to the technology, and subsidiary and prior knowledge of fruit plantation, Nepalese farmers have the capacity to turn the desert into the land of plenty.


About The Author