Towards Renewable Energy: Nepal and Bangladesh
Sudeep Ghimire / Zulker Naeen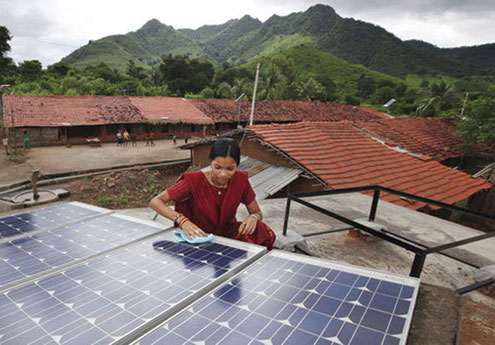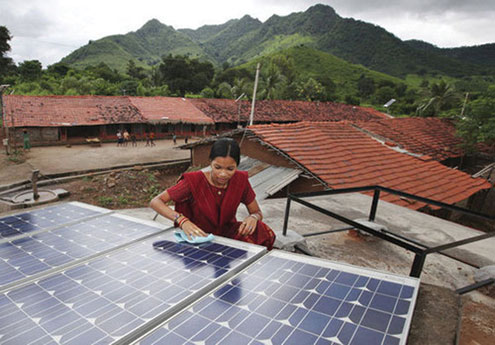 In the context of Nepal

Nepal carries the enormous potential of generating 83,000 MW Hydroelectricity. However, the greatest paradox still exists of having around 10 hours load shedding in Kathmandu.For last two decades, the exploitation of fossil fuels and the natural resources are considered as the global discussion, where recommendations are focused on the adoption of energy saving systems and use of renewable energy.

Nepal is one of the least developed countries with more than 80% of its population residing in rural communities. It has no known major oil, gas, or coal reserves, and its energy sector is dominated by the traditional energy sources like fuelwood, crop residues, and animal dung mainly for domestic usage. The majority of rural populations are meeting their energy needs by burning biomass in traditional stoves, mostly fossil-derived fuels are imported. Also, the continuous increase of petroleum imports has an adverse impact on its fragile economy.

The major sources of renewable energy are mini and micro hydropower, solar energy, various forms of biomass energy, biogas and wind energy etc.But still around 85% of the total final energy consumption in Nepal is met by traditional biomass energy and around 28% of households in Nepal do not have access to electricity.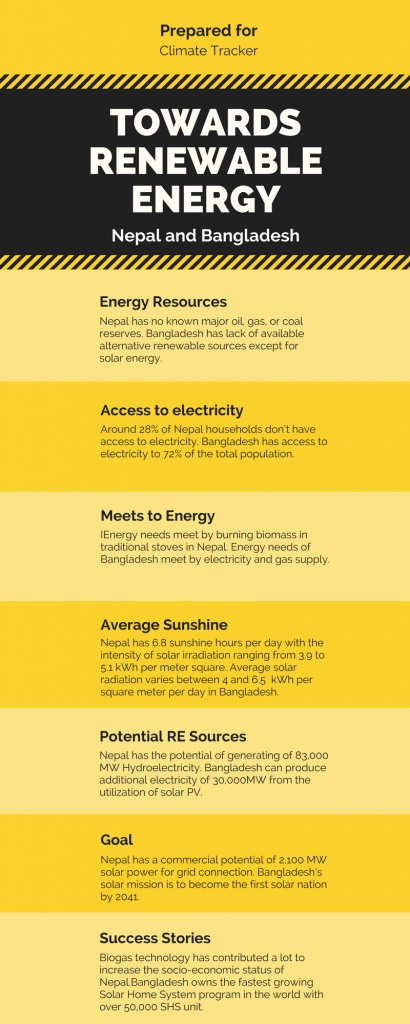 Nepal aims to achieve universal access to clean, reliable and affordable renewable energy solutions by 2030. It is expected to reduce dependence on traditional and imported energy by increasing access to renewable energy.

The use of solar energy is reliable than the traditional electricity in Nepal. Private installations of solar panels are more frequent in urban areas tend to use it as a backup during the power cut off. On average, Nepal has 6.8 sunshine hours per day with the intensity of solar irradiation ranging from 3.9 to 5.1 kWh per meter square, with a commercial potential of solar power for grid connection estimated in 2,100 MW.

In 2015, Nepal and the World Bank signed an agreement to invest USD 130 million to develop a 25 MW solar project that will eventually be connected to the national grid. It is the largest renewable energy plant planned in the country.

The wind potential has noted available in the mountainous region with significance, however, Solar and Wind Energy Resource Assessment (SWERA) project has made an attempt to map the wind resource potential in Nepal and has shown a very good prospect of wind energy with the prediction of about 3,000 MW of wind power generation.

The government of Nepal has been a particularly strong advocate for biogas, having implemented initiatives to support promotion and development of the technology since 1974. Biogas has been especially attractive since a large amount of the population are farmers depends mostly on agriculture. The main challenges for the biogas sector are cold temperatures in country's hilly areas; the lack of private sector investment, and the geographical locations of many villages. However, biogas technology has contributed a lot to increase the socio-economic status of its users in Nepal.

Each biogas plant can save more than four tones of firewood and 32 liters of kerosene every year. It can save averages 1000 hours of average firewood collection of each household. Each biogas plant produces about five tons of organic, fertilizer annually, which can replace chemical fertilizer. A recent study by Winrock Nepal and others found that each biogas plant can mitigate about five tons of carbon dioxide equivalent per year. The credits thus earned could provide alternative financing for the sustainability of biogas program in Nepal.

A wide geographical variability, the lower literacy rate, and high-cost factor are some of the major issues associated with the promotion of sustainable energy in Nepal.

Despite its hydro dominant policies, Nepal has established a semi-autonomous agency called the Alternative Energy Promotion Centre (AEPC) in 1996. It claims that more than 1.5 million families have got access to electricity access using renewable energy sources, especially in the off-grid areas.

In the context of Bangladesh

Rapid urbanization fueled by stable economic growth has already created a huge energy demand in Bangladesh, where electricity is the widely used form of energy. At present, about 72% of the total population has access to electricity.

Bangladesh is starving for energy for last few decades since its power generation mostly depends on imported fossil fuel and natural gas. The present government has increased electricity generation, yet the grid electricity to the remote areas is difficult because of the lack of longstanding distribution facilities.

The government of Bangladesh has found ambitious with its goal of providing the electricity to every rural household. But, the energy access and the pollution free clean electricity for all is hard as there is lack of available alternative renewable sources for Bangladesh except the solar energy.

Bangladesh is hosting the fastest growing Solar Home System program in the world with over 50,000 SHS unit installations per month in the recent past. As of 2017, Bangladesh has the world's largest Solar Home System program with about 5 million SHS. Over 30 million people are dependent on solar energy now, also created new employment for over 100,000 people.

It's an off-grid success; over 12 percent population outside the grid network is getting access to electricity through the installation of more than 4.5 million solar home systems.

Bangladesh enjoys the average solar radiation varies between 4 and 6.5 kilowatt-hours (kWh) per square meter per day, also blessed with year-round sunshine over 300 days per year.

In terms of rural renewable energy development, the country has made significant progress by installing Solar Home System in the off-grid areas.

Back in 1996, it became popular among the rural people for its affordable monthly installment facility at the price of kerosene, become a successful financial model for rural development.

A strong network of supply chain and branches also help Solar Home System become popular and acceptable.

Bangladesh government has taken a systematic approach includes the development of awareness, legal and regulatory framework, institutional development, and financing mechanism to drive the RE sector.

Use of solar energy in Bangladesh has ignited the future prospects, also made the country committed to being the first solar nation in the world.

Along with the solar home system, 617 Solar Irrigation Pumps have already been installed, along with solar street lights in Dhaka, Chittagong, Khulna, and remote rural areas of the country, 7 solar mini-grids in remote islands, urban rooftop solar program, and solar-powered arsenic water treatment plants are complementing the effort to generate clean power.

A community-based solar approach such as solar irrigation pumps, solar mini-grid, arsenic water treatment plants, and solar street lights have the potential of benefiting the community people by ensuring food security, arsenic-free pure water, improved socio-economic conditions in off-grid areas of Bangladesh etc.

It's possible to produce additional electricity of 30,000MW from the utilization of solar PV at schools, colleges, universities, mosques, temples madrasahs, government buildings, factories, bus stations, train stations, unused lands, community-based PV plants, and grid tie mega projects.

The world is shifting to green electricity generation from the traditional way of electricity production, causes about 29% of total greenhouse gas emissions.

However, Bangladesh solar mission needs to be designed to achieve SDGs by 2030 and to build the foundation to reach 100% renewable energy (RE) in the future.

In this backdrop, the government has established Sustainable and Renewable Energy Development Authority (SREDA) to provide policy support and guidelines for sustainable growth of renewable energy. The private sector has taken multiple initiatives towards producing renewable electricity.

To facilitate to thousands of rural villages through the next decade, moving towards renewable energy can bring a smile to the rural people by developing agricultural output, offering food security, providing modern facilities, creating new businesses and jobs for both men and women.

Proper planning and implementation of a sustainable technological, financial, and socially accepted business model articulated through

Bangladesh's solar mission may gradually transform the nation towards renewable energy, also and to become the first solar nation by 2041.

Conclusion:

The go-for renewable for both countries mostly depends on the continuous govt. and donor support, public-private partnerships. The extension of natural resources based electricity is always perilous for the environment than the renewable energy. In this backdrop, the use of the renewables sources has been seeing as the viable alternatives to meet the existing demand of power supply for both countries. Despite own huge potentials of each country, however, both countries are yet to exploit the power of the sun to their advantages to meet the energy need.

About Authors

Ghimire is a Climate Tracker Fellow. He is a Civil Engineering student at Jawaharlal Nehru Technological University, Kakinada and Global Youth Board member at Plant-for-the-Planet; Germany.

Naeen is a Climate Tracker Fellow. He is also a communication graduate of University of Liberal Arts Bangladesh (ULAB), currently working as a market researcher of lubricants oil sector in Bangladesh.