15,000-year-old mammoth skeleton up for auction
A+
A-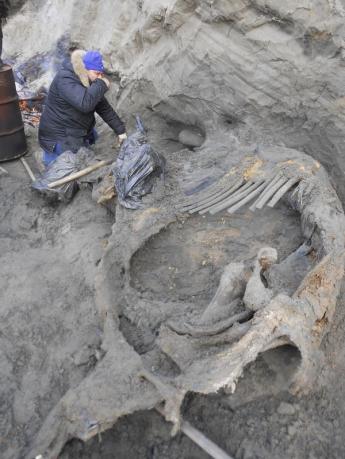 A 15,000-year-old skeleton of a woolly mammoth, the extinct giant of the Ice Age, will be auctioned next month in the French city of Lyon.Standing more than 3 metres (10 ft) high, the complete skeleton has two gleaming three-metre-long tusks that weigh a combined 160 kg (353 lb), said art expert Eric Mickeler.
"Here you have an exceptional specimen, first because of its size. It is a very big specimen," said Mickeler, a member of the European Chamber of Expert-Advisors in Fine Art.
Potential buyers of the skeleton, estimated to be worth between 450,000 euros ($536,000) and 490,000 euros, could include history museums, foundations, private collectors or companies.Auctioneer Claude Aguttes said the skeleton could be displayed in a large apartment or hall in a corporate office."If you want to put it in a room, it must be big," he said.
In 2006, a mammoth skeleton was sold for 150,000 euros and put on display at a wine cellar in the Gard region.
The auction is on December 16.