Imparting family value education through plays
A+
A-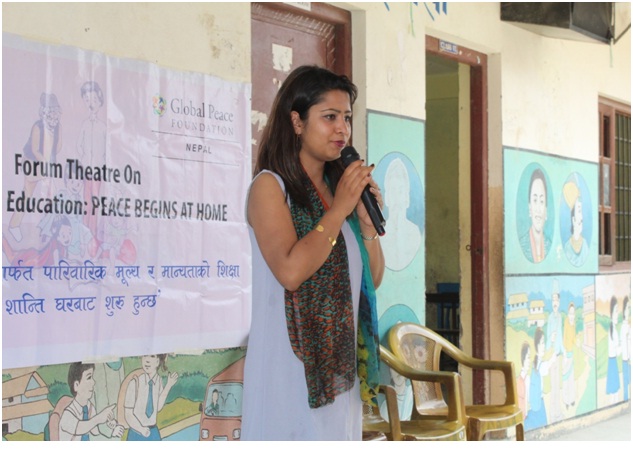 Global Peace Women- women division of Global Peace Foundation Nepal showcased its drama series of this season Paralko Aggo and Tito Mitho Sambandha at Deepsikha Secondary School in Sorhakhutte on 11th November, 2017 in the presence of more than 200 people.
Performance art has the way to shake people to the core and when the same art tend to promote social cause the impact is sure to be sustainable. Following the same mantra Program Officer of Global Peace Foundation, Sandhya Acharya introduced and promoted "Theatre Forum" that has been running since January 31st, 2016 in the public arenas of the country.
The theatre forum showcases the drama with the theme of family value education encompassing the issue of domestic violence, unstable marital relationships, feud between in-laws and gender inequality. "Our main agenda is to reach a lot of audiences and create a meaningful impact for the total behavioral change," said Acharya.
Sandhya Acharya who represents Global Peace Women has spent long hours to make relatable content with the assistance of 7 volunteer actors. The forum provides an opportunity for young aspiring actors to present their skills and work for social issue simultaneously.
The team of actors' moves around the country to address the social issue and the audience are asked to voice out their opinions by stopping each drama in the climax. The narrator will then explain how the situation should have handled positively and conveys the unique role of women in the family; parents' role in child's development; gender equality; parents as the role model of the children; how peace begins at home and role of family for a peaceful society.
"The major problem while performing the play is the setting of the stage that varies in each occasion," said Manisha Kathiwoda one of the actors who plays several roles in all three dramas. The plays are performed in open spaces so the actors are struggling to maintain the standard and quality of performance as audience come in and go as they please.
The drama has been staged total of 35 times in more than a year in community learning centers and schools at Kathmandu, Lalitpur, Bhaktapur and Kavre reaching 2500 people. Although the theater forum aims to be accessible in the every part of the country, the budget and manpower constraints is making the progress slow and arduous.