Launch of the NEXUS Gains Initiative for Ganges Basin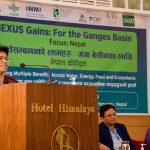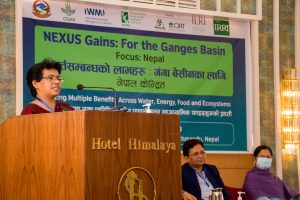 The International Water Management Institute (IWMI, Nepal Office) and the International Food Policy Research Institute (IFPRI), in collaboration with the Department of Water Resources and Irrigation (DoWRI) of the Government of Nepal, have launched a new research-for-development initiative named "NEXUS Gains for the Ganges Basin: Realizing Multiple Benefits Across Water, Energy, Food, and Ecosystems (Forest, Biodiversity)." A global CGIAR initiative, NEXUS Gains will examine water, energy, food, and ecosystem (WEFE) systems in transboundary bread-basket basins in East and Southern Africa (Blue Nile and Limpopo basins), Central Asia (Aral Sea basin), and South Asia (Ganges and Indus basins).

The NEXUS Gains inception workshop was hosted in Kathmandu, and led by IWMI and IFPRI in collaboration with the International Rice Research Institute Nepal (IRRI), Alliance of Bioversity International and International Center for Tropical Agriculture (CIAT), and International Livestock Research Institute Nepal (ILRI), partners in the Consultative Group on International Agricultural Research (CGIAR).

Participants included representatives from key line ministries and agencies responsible for managing water resources, forests, energy, irrigation, agriculture, climate change, and rural development; Water and Energy Commission Secretariat (WECS); national academic institutions and universities (particularly those engaged in the study of water management, agriculture, forestry, and environmental sustainability); international research institutions (including CGIAR research centers International Center for Agricultural Research in the Dry Areas (ICARDA), regional organizations,  inter-governmental organization (ICIMOD), and NGOs; the Nepal Agriculture Research Council (NARC); private sector representatives; civil society organizations (FECOFUN, HIMAWANTI) and a wide range of development partners (including USAID, GIZ, DFAT, ADB, Water Aid, IUCN, SNV, WinrockInternational, and ADPC).

The event was inaugurated by Minister Pampha Bhusal, Minister of Energy, Water Resources and Irrigation, Government of Nepal. "Natural resources are critical to socio-economic development; water resources being one of them. We are committed to managing this resource effectively and efficiently. NEXUS Gains can offer a comprehensive framework by considering water, energy, food, and ecosystem nexus," said Hon. Minister Bhusal.

During the workshop, participants shared their thoughts on opportunities and challenges to promote and institutionalize the WEFE Nexus approach in Nepal and identify potential activities within the framework of the NEXUS Gains initiative in the Ganges basin. Participants also emphasized local solutions to the challenges facing the water, energy, food, and ecosystem transformation while exploring how the transformation of these systems for equitable food, energy, and water security can be achieved in the Ganges basin in general, and Nepal in particular.

Similarly, Juddha Gurung, a member of the National Natural Resources and Fiscal Commission, emphasized that "All sectors must work together in an integrated way, and programs like NEXUS Gains should support generating evidence, tools, and approaches for enabling greater systems thinking at the field and basin levels", he said.

Saloni Pradhan Singh, a member of the National Planning Commission, emphasized that climate change will impact all sectors, but will have a differentiated impact on different social groups. Consequently, she said, approaches like the WEFE nexus should highlight how we can minimize the impact of climate change on vulnerable groups including women, and children.

Dipak Gyawali, an academic at the Nepal Academy of Science and Technology and a former Minister of Water Resources moderated an interactive panel discussion on "A journey to the water, energy, food, and ecosystem (WEFE) nexus approach for achieving sustainable growth and inclusive development in Nepal'' chaired by Sagar Kumar Rai, Secretary, Ministry of Energy, Water Resources and Irrigations. One of the panelists, Dr. Bimala Rai Paudyal, Honorable Member of the National Assembly at the Federal Parliament of Nepal emphasized the need to bridge the gap between policymakers and research scientists so that policy is driven by more evidence and data. In reflecting on the feminization of work in Nepal, she also highlighted the need to move from a vulnerability perspective to an 'agency' approach to recognize women not as vulnerable groups, but as change agents and they need to be engaged as key actors of nexus approach and practices.

"We have no time to lose," added Prof. Stefan Uhlenbrook, Initiative Lead for NEXUS Gains. "Inclusive, sustainable development requires integrated management WEFE systems. This is also critical to build climate resilience." Dr. Manohara Khadka, Country Representative, IWMI-Nepal, also noted that integrated management of water, energy, land, food, forests and biodiversity resources in a climate crisis can support achieving socio-economic transformation and gender equality.  For those reasons, NEXUS Gains will support the agency of women, youth, and marginalized groups as important actors of the WEFE governance.

Delivering the closing remarks at the inception workshop, Susheel C. Acharya, Director General, Department of Water Resources, and Irrigation, emphasized that the NEXUS approach to water resources development considering food energy and ecosystem is more relevant in Nepal's context.
About The Author