A letter to Narendra Modi Jee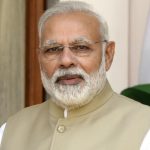 Though I am late, Congratulations! Narendra Modi jee for successful second tenure of your government but there are suspense and fear again in Nepali political diaspora regarding the presence of Jaya Shankar as minister of foreign affiars in newly formed government in India. His presence has once again revived the two months Sep-Oct-2015 , long blockade, that is imprinted as cruelty in Nepali heart and memories.

Jaya Shankar's presence in Nepal is always proven faulty, suffocating, and worth worrying. His deployment, as a diplomat where ever went, had always been controversial. His architecture to seal Nepal's boarder, just for the desire of Nepali to promulgate their constitution by their own, has not shown any mark of respect towards him. It blurred the Indo-Nepal relationship for time being.

Modi Jee, you know we Nepali tolerated the difficulty and managed the imposed inhumanity. Though we were in problem we did not let our head go down just for what you did listening to Jaya Shankar. We did not shrink as suggested by your advisors. You never know how we felt. I still remember the unending queue for petrol and gas cylinder and the pangs of nepali.

Modi jee, this time I am expectant you will remember the gone by days, correct the mistake, and respect us as sovereign nationals. We are brave Gurkhas and we do not lose any hopes. We are always in favor of mutual co-operation, regional peace, and prosperity of every nation. Doom is acceptable than slavery to us.

Modi jee,I don't believe you as an ethnocentric person. How much we like you is proven by our hospitability during your two visits to Nepal. This time we believe, in your second prime minister-ship, our bilateral relationship will gain a new height which will add the concept of strong fraternity. I hope you will support for the big projects and help in the implement those that had been signed in your first tenure. Your prosperity lies in our prosperity as well. Poverty is a common problem in both of the nations and I reckon your policies will help people live a healthy and prosperous life.

Modi jee, I can only humbly request you look for the surrounding, listen what others say but at the time of decision listen to your own heart. We are conscious and hopeful not to defame you and your nation and expect the same from you. Jaya Shankar phobia is strangling us and we are optimistic you with your sixth sense, help us come out from this terror. Hope better this time and longevity of Indo-Nepal relationship.

(The opinion is expressed personally by the author)
About The Author