Experts: Ready to Help for Climate Change
A+
A-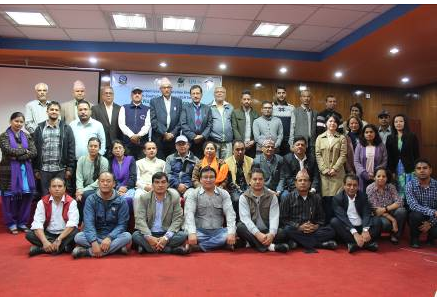 Nepal is one of those countries where the effects of climate change will be felt the most. According to the Global Climate Risk Index (for 1997–2016), Nepal ranks 26th among the countries most affected by climate change. But ironically, Nepalese, who have no other option but to adapt to the effects of climate change, are not prepared to do so. It ranks 134th  when it comes to preparedness to adapt to the effects of climate change.
To increase people's and ecosystem's resilience to the adverse effects of climate change, a host of activities and initiatives are being carried out by different governmental and non-governmental organizations in Nepal.
One of the most successful initiatives is Ecosystem-based Adaptation (EbA), which focuses on utilizing local natural resources in a sustainable way and applying innovations in traditional practices.
Nepal received the opportunity to implement project officially entitled "Enhancing Capacity, Knowledge and Technology Support to Build Climate Resilience of Vulnerable Developing Countries" to practice the EbA approach and build climate resilience of communities by increasing institutional capacity, mobilizing knowledge and transferring appropriate adaptation technologies. It is known as 'EbA South' (Ecosystem-based Adaptation through South-South Cooperation).
This project is funded mainly by the Global Environment Facility's (GEF) Special Climate Change Fund (SCCF), implemented by the United Nations Environment Programme (UN Environment) and executed by the National Development and Reform Commission (NDRC) of China, through the Institute of Geographic Sciences and Natural Resources Research (IGSNRR) of Chinese Academy of Sciences (CAS).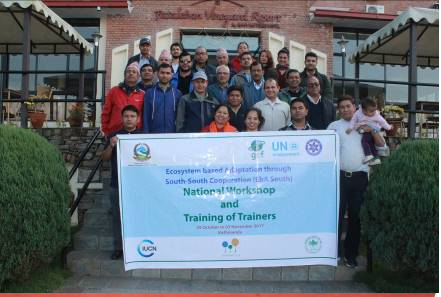 Within this project, national-wide training workshops were organized for scientists, practitioners and government staff of Nepal to plan, implement, manage and conduct research in the context of climate change. They were a two-day national level workshop and a four-day Training of Trainers (ToT).
The concrete objective of the national workshop was to enhance the capacity and knowledge of the important stakeholders to plan, implement, finance, research and legislate in support of EbA approaches with emphasis on mountain ecosystem.
Similarly, ToT was to prepare a pool of master trainers on EbA approaches to adapt to the impacts of climate change with the expectation that these trainers will further support to build climate resilience of the country by mobilising knowledge on EbA approaches and will train the larger stakeholders on EbA approaches at the district and community levels.
Both the events were facilitated by the International Union for Conservation of Nature (IUCN) and Green Governance of Nepal (GGN) in collaboration with MoFE. Around 52 participants from relevant governmental institutions, consultants and other key stakeholders participated in the national workshop. Similarly, 20 stakeholders took part in the ToT.
The results of the national level training workshop were encouraging. The most effective aspect of the event, according to participants, was that it involved a field visit to get hands-on knowledge. More than a quarter of the participants said that they gained valuable insight into issues such as vulnerability assessment, cost benefit assessment and EbA mainstreaming. More than 75 percent of the participants in ToT reflected that the training helped them become better trainers and gain valuable knowledge on EbA cost-benefit analysis.
Following the two events, the agencies involved in implementing events believe that most of the objectives of the knowledge dissemination exercise have been met. Scientists, researchers, members of the local community and government officials are now aware of the latest knowledge on EbA. Similarly, a pool of experts has been created to train people at the grassroots about this approach to adapting to climate change.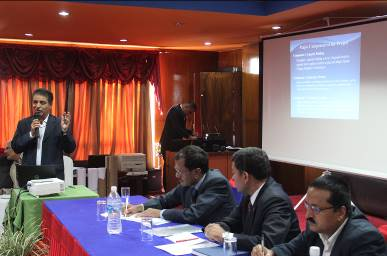 Under Secretary at the Ministry of Environment Ram Hari Pantha says: "Such trainings and workshops have helped us develop a pool of experts in the field of EbA, link and connect already completed, ongoing and upcoming EbA programs in Nepal."With the knowledge dissemination aspect completed, Nepal's experts are now more prepared to help local communities adapt to the effects of climate change.