Kammerlander abandons Manaslu bid, Sung-Taek prepares for final summit push on Mt Lhotse
A+
A-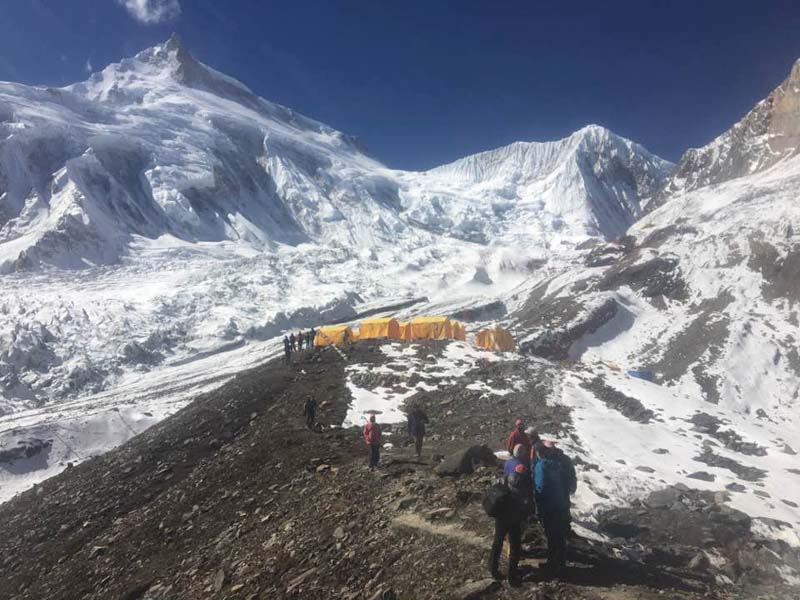 Legendary mountaineer Hans Kammerlander (61) has abandoned his bid to attempt to climb Mt Manaslu (8,163m) this season after his team failed to make any movement in the snow masses for the last few days.
This year, Kammerlander who lost his two friends while descending Mt Manaslu in 1991 had decided to return to the world's eighth highest peak along with another veteran climber Stephan Keck to shoot a film on his own life, his greatest accomplishments, and tragedies. Also, the goal of Kammerlander and his partner Stephan was to return to the Mt Manaslu to climb mountain and eventually descend a new route by skies .
According to Rajendra Lama, managing director at Friends Adventure Team, Kammerlander on Sunday decided to return to the base camp finding that a summit attempt would hardly have been possible because for such winds the summit ridge is far too narrow and exposed. "Kammerlander said that he has never seen so much snow on an eight-thousander before."
"Last day of Manaslu filming with Irmin Kerck for the Kamerlander's Manaslu expedition. What an amazing experience to spend seven hours in the high alpine up to 7,000m," Captain Eric Ridington wrote on his Facebook page this afternoon.
According to reports, Kammerlander feels no disappointment, no remorse, to have once again dared to try again with just under 61 years of age, one of the highest mountains. "I think Stephan and I would certainly have come up there, the four sherpas anyway. We were well acclimatised and in the best condition, only this incredible snow, has completely stopped us. If we had tried, it would have been a completely insane Russian roulette that could have cost us all our lives," reports quoted the legendary mountaineer as saying.
Meanwhile, renowned South Korean climber Sung Taek Hong (51) who had already fixed Camp IV for the toughest Lhotse South Face expedition is however preparing for the last summit attempt on the world's fourth highest peak this season.
The National Geographic explorer attempted to summit the Mountain on November 2, yet failed due to unexpected heavy snow and strong winds, according to Kyu-po Pyun, Media Relations Manager for the expedition.
Currently, Hong is preparing more tents, foods, and equipment to replace the damaged and lost ones, he said, adding, "The summit day is not certain yet, it may be November 15." Earlier, storms destroyed Camp I and Camp II as well as fixed ropes were also covered by heavy snow and ice, which delayed the climbing bid.
Hong started climbing for summit on October 29. The expedition team comprises five Korean climbers including Hong, record-holder Spanish climber Jorge Egocheaga Rodriguez, 9 Sherpas, and 4 local supporters. Hong has already attempted the most difficult face of the mountain four times in the previous years. The South Korean mountaineer climbed Mt Everest in 1995 from Tibetan side while he skied to the South Pole in 1994 and walked to the North Pole in 2005. Hong also crossed the Bering Strait and Greenland for the first time.
The Himalayan Times